Release: Friday, October 19, 2018
Company: Blumhouse Productions
Length: 106 Minutes
Tagline: Face Your Fate
Budget: $10 million
Domestic Box Office: $159.3 Million
Global Box Office: $255.4 Million
Opening Weekend: $76.2 Million
Sound Quality: DTS/Dolby Digital/Dolby Atmos
Film Dates: January 13- February 19, 2018
Additional Filming: June 11, 2018
Film Location: Charleston, South Carolina
Hanahan, South Carolina
Film Availability: DVD, BLU-RAY, 4K UHD, DIGITAL, 4K DIGITAL
Soundtrack Availability: CD, EXPANDED CD, VINYL, EXPANDED VINYL, DIGITAL, EXPANDED DIGITAL
Novelization: 2018
E-Book: 2018
Audio Book: 2018



CORONER'S REPORT





1. BUS DRIVER (uncredited)- Killed offscreen, death confirmed by police
2. WARDEN KUNEMAN (Michael Harrity)- Head wound
3. HASKELL (William Matthew Anderson)- Found dead on the road by Hawkins
4. LUMPY (Vince Mattis)- Strangled, neck broken against car door window
5. FATHER (Brien Gregorie)- Found by Officer Hawkins with neck broken
6. GAS STATION CLERK (uncredited)- Found with jaw and face ripped open
7. MECHANIC (Aaron Christian Paderewski)- Found beaten to death with mallet
8. AARON (Jefferson Hall)- Head bashed against wall 4x and stall door 6x
9. DANA (Rhian Rees)- Strangled, neck broken
10. GINA (Marian Green) Beat to death with hammer offscreen
11. ANDREA (Marian Sing)- Head bashed off couch, knifed thru neck & out throat
12. VICKY (Virginia Gardner)- Stabbed to death with butcher knife
13. DAVE (Miles Robbins)- Found knifed to wall by Officer Hawkins
14. OSCAR (Drew Scheid)- Knifed in back, impaled thru chin on iron fence post
15. DR. SARTAIN (Haluk Bilginer)- Head stomped in and smashed to pieces
16. OFFICER RICHARDS (Charlie Benton)- Found with throat slit and pen knife rammed into head
17. OFFICER FRANCIS (Christopher Nelson)- Found beheaded and mounted onto shotgun, turned into human pumpkin
18. RAY (Toby Huss)- Garotted with metal wind chimes, neck snapped

*NOTE: It is unknown how many of the inmates escaped or were killed by Michael during the bus crash. When reviewing the aftermath with Officer Hawkins, SHERIFF BARKER (Omar Dorsey) only stated that the remaining inmates were being "rounded up". Their fates remain unknown.

Film Total: 18
Series Total: 175



MICHAEL'S BATTLE SCARS





1. Bludgeoned with crowbar
2. Wooden chair broken arm
3. Shot in arm
4. Rammed by police cruiser
5. 2 fingers blown off by shotgun blast
6. Head shoved
7. Wounded hand bitten
8. Shot in face
9. Knifed in arm
10. Skillet to head
11. Falls down flight of stairs
12. Knifed in shoulder
13. Knifed in arm
14. Falls down flight of stairs
15. Burned

Film Total: 15
Series Total: 109



SOUNDS


DANA: "We are now at Smith's Grove...a rehabilitation facility..."
AARON: "Patient has spent 40 years in captivity and has not uttered a word..."
DR. SARTAIN: "And there he is...he can speak...he just chooses not to..."
AARON: "You feel it, don't you Michael? You feel the mask!"
AARON: "Could it be that one monster has created another?"
RAY: "Oh man! I got peanut butter on my penis..."
DAVE: "Wasn't it her brother...like cold blooded murdilated all those teenagers?"
VICKY: "No, that's just a bit people made up to make them feel better, I think..."
LAURIE: "If the way I raised her means she's prepared, I can live with that..."
ALLYSON: "Say goodbye to Michael and get over it!"
KAREN: "I'm trying to get over the paranoia & neuroses she's projected on me..."
BARKER: "What are we gonna do...cancel Halloween?!"
JULIAN: "He's in here...the Boogeyman's in this house!"
LAURIE: "You're the new Loomis?"
LAURIE: "Do you know...that I prayed every night that he would escape..."
HAWKINS: "What the hell would you do that for?!"
LAURIE: "So I could kill him..."
DR. SARTAIN: "Many ways for tragedy and violence to change a victim..."
DR. SARTAIN: "I want to know what pleasure he gets out of killing..."
HAWKINS: "You're not gonna stand in the way of justice this time.."
LAURIE: "We're all gonna be together...now...do as I say!"
DR. SARTAIN: "So...this is what it feels like..."
LAURIE: "Alright, pick your poison..."
DR. SARTAIN: "Michael's pursuit of Laurie could be what keeps him alive..."
DR. SARTAIN: "Say something..."
KAREN: "You want him to come here?!"
LAURIE: "Happy Halloween, Michael..."
KAREN: "Okay, it's not a cage, baby...it's a trap..."
LAURIE: "Goodbye, Michael..."

CAST AND CREW



LAURIE STRODE- JAMIE LEE CURTIS
KAREN- JUDY GREER
ALLYSON- ANDI MATICHAK
THE SHAPE- JAMES JUDE COURTNEY
THE SHAPE- NICK CASTLE
DR. SARTAIN- HALUK BILGINER
OFFICER HAWKINS- WILL PATTON
DANA HAINES- RHIAN REES
AARON KOREY- JEFFERSON HALL
RAY- TOBY HUSS
VICKY- VIRGINIA GARDNER
CAMERON ELAM- DYLAN ARNOLD
DAVE- MILES ROBBINS
OSCAR- DREW SCHEID
JULIAN- JIBRAIL NANTAMBU
WARDEN KUNEMAN- MICHAEL HARRITY
GUARD HASKELL- WILLIAM MATTHEW ANDERSON
CARETAKER- DIVA TYLER
FATHER- BRIEN GREGORIE
LUMPY- VINCE MATTIS
SHERIFF BARKER- OMAR DORSEY
LYNCH- PEDRO LOPEZ
OFFICER RICHARDS- CHARLIE BENTON
OFFICER FRANCIS- CHRISTOPHER NELSON
ONLOOKER- TERESA ANN JOHNSON
NEWS REPORTER- JONATHAN BRUCE
COREY- CHARLIE DONADIO
SHAMEEL- STEPHANIE BUTTS
STANFORD- DAVOL GARRETT
HUNKY DOCTOR- MICHAEL SMALLWOOD
SEXY NURSE- CARMELA MCNEAL
COWBOY KID- MIGUEL MACARIO MATA
TELLER- KURT DEIMER
OFFICER #1- CHRISTOPHER HOLLOWAY
OFFICER #2- ROGER ANTONIO
PIRATE KID- JACOB M. ARNOLD
YOUNG KAREN- SOPHIA MILLER
DR. LOOMIS- COLIN MAHAN
TEACHER- P.J. SOLES
JUDITH MYERS FROM HALLOWEEN (1978)- SANDY JOHNSON
PHINEAS BOGG FROM VOYAGERS- JON-ERIK HEXUM
JEFFREY JONES FROM VOYAGERS- MEENO PELUCE
MOTORCYCLE COP FROM REPO MAN- VARNUM HONEY
NURSE- ANGELA ANDERSON
MENTAL PATIENT- OMAR AZIMI
POLICE OFFICER/CSI- WILLIE TYRONE FERGUSON
DEPUTY WHEELER- ROBERT FORTUNATO
GINA PANCHELLA/SANDWICH WOMAN- MARIAN GREEN
NEIGHBORHOOD TRICK-OR-TREATER- BRENT GRIBBLE
HIGH SCHOOL STUDENT- KOBY GRIFFIN
CHESS PLAYER- DAVID LOWE
SKELETON PARTY GOER- R.J. MILLER
HIGH SCHOOL STUDENT- JARED MOSER
PARTY GOER- NYZAHIR MUHAMMAD
DEPUTY SHERIFF WALKER- ROB NITER
PRISON GUARD- PATRICK ASHLEY O'NEAL
MECHANIC- AARON CHRISTIAN PADEREWSKI
CRIMINALLY INSANE PATIENT- JOHNNY PRICE JR.
PRETTY GIRL KIM- ANGELINA RICKER
TEEN ON BIKE- HANNAH RUSSELL
ANDREA WAGNER/TRICK-OR-TREAT LADY- MARIAN SING
SECURITY GUARD- EDWARD STACHYRA
STUDENT- JESSE STRATFORD
ONLOOKER- MORGAN STREBLER
ONLOOKER- SEAN VON BUSECK
ONLOOKER- ANTHONY WOODLE

Directed By- David Gordon Green
Written By- Jeff Fradley, Danny McBride
And David Gordon Green
Produced By- Malek Akkad, P.G.A.
Produced By- Jason Blum, P.G.A.
Produced By- Bill Block, P.G.A.
Co-Producers- Sean Gowrie & Rick Osako
Ryan Turek, Atilla Salih Yucer
Executive Producers- Zanne Devine, David Thwaites
Executive Producers- John Carpenter, Jamie Lee Curtis
Executive Producers- Jeanette Volturno, Couper Samuelson
Executive Producers- Danny McBride, David Gordon Green
Executive Producer- Ryan Freimann
Based On Characters Created By-
John Carpenter & Debra Hill
Casting By- Terri Taylor, C.S.A.
Casting By- Sarah Domeier, C.S.A.
Make-Up Effects Designer- Christopher Nelson
Music By- John Carpenter, Cody Carpenter
And Daniel Davies
Costume Designer- Emily Gunshor
Edited By- Tim Alverson, A.C.E.
Production Designer- Richard A. Wright
Director Of Photography- Michael Simmonds
Unit Production Manager- Rick A. Osako
Unit Production Manager- Sean Gowrie
First Assistant Director- Atilla Salih Yucer
Second Assistant Director- Kamen Velkovsky
Associate Producers- Scott Clackum, Laura Altmann
Stunt Coordinator- Rawn Hutchinson
Additional Stunt Coordinator- Tom Elliott
Stunt Double- Laurie- Ashley Rae Trisler
Stunt Double- Allyson- Lydia Hand
Stunt Double- Dr. Sartain/Hawkins- Cal Johnson
Stunt Double- Dana- Corrina Roshea
Stunt Double- Oscar- Dale Miller
Stunt Performers- Marian Green, Marian Miaoyin Sing
Taylor Towery, Chris Nielsen, Cody Robinson
Art Director- Sean White
Assistant Art Director- Jake Kuykendall
Art Department Coordinator- Sheena Knight
Storyboard Artist- Warren Drummond
Fear Consultant- Onur Tukel
Set Designers- Ann Goelz, Philip Toolin
Set Decorator- Missy Ricker
Leadman- Polar Bear Shaw
Buyer- Elsie Rabon
On-Set Dresser- Brody Docar
Swing Gang- Daniel Deas, Alissa DiGiandomenico
Kallen Gardner, James Johnston, Thomas Monteverde Jr.
Jason Parham, Michael Shapiro, Clayton Tilley
Bruce Williamson, George Wynn
Property Master- Mick Flowers
Assistant Property Master- Tim Sheehan
Armourer- Todd Hergott
Property Assistants- Laura Sherrier, Aimiee Sullivan
"A" Camera Operator- Paul Daley
"A" Camera First Assistant Camera- Justin Simpson
"A" Camera Second Assistant Camera- Justin Urban
"B" Camera/Steadicam Operator- Stew Cantrell
"B" Camera First Assistant Camera- Matthew Mebane
"B" Camera Second Assistant Camera- Emily Rudy
Digital Image Technician- Andy Bader
Digital Utility- Nick Brown, Grace Chambers
Production Sound Mixer- Christopher Gebert
Boom Operator- Joel Reidy
Sound Utility- Ryan Baker
Chief Lighting Technician- Robert Sciretta
Assistant Chief Lighting Technician- Michael Stippich
Board Operator- Matthew Larsen
Lighting Technicians- Bill Allanson, Chrys Blackstone
Maxwell Gordon, Mike Horton, Kyle Perritt
Conrad Mizzell, Henry O'Briant, Harley White
Rigging Chief Lighting Technician- Ben Davidson
Assistant Rigging Chief Lighting Technician- Glenn Crowley
Rigging Light Technicians- Ben Baggott
John Corbett, Justin Moskos
Key Grip- Lee Donaldson
Best Boy Grip- W. Dave Justice
"A" Dolly Grip- Phillip Dann
"B" Dolly Grip- Evan Russell
Company Grips- Rocky Amon, Mike Byrd, Jose De Jesus
Jimmy DiGiandomenico, Krystina Figg, T.J. Sheidecker
Key Rigging Grip- Geoff Herbert
Best Boy Rigging Grip- Brian Knox
Rigging Grips- Chris McFeely
Adrienne Brown, Bill Rampey
Special Effects Coordinators- Heath Hood & David Poole
Special Effects Foreman- Morgan Rogers
Special Effects Technicians- Frankie Addington
Mark Austin & Billy Daniel
Production Coordinator- Jason Salzman
Assistant Production Coordinator- Mary Woods
Production Secretary- Amy Harmon
Production Accountant- Michael Collins
First Assistant Accountant- Sergio Medina
Second Assistant Accountant- Shon Twitty
Payroll Accountants- Rachel Quinn, Lamonte Bell
Clerk- Joe Wells
Payroll Clerk- Krystal Nesmith
Post Production Accountant- Cody Heffelfinger
VFX On-Set Supervisor- Josh Stevens
Video Assist- Nicholas Groetsch
Video Playback Operator- Tony Jenzano
Assistant Costume Designer- Caitlin Doukas
Costume Supervisor- Alex Dawson
Key Set Costumer- Toni Cunningham
Set Costumer- Dalia Dalili
Costumer- Ramsay Williams
Ager/Dryer- April Traquina
Department Head- Make-Up- Sandra Orsolyak-Allen
Key Make-Up Artist- Holly Sago
Make-Up Artist- Deidre Outlaw
Department Head- Hair- Patricia Glasser
Key Hairstylist- Bryan Moss
Hairstylist- Ashton Glasser
Key Make-Up Effects Artist- Kevin Wasner
Make-Up Effects Co-Designer- Vincent Van Dyke
Special Make-Up Effects Provided By- VVDFX
Mold Shop Supervisor- Carl Lyon
Lead Technician/Artist- Manny Lemus
Technician/Fabricators- Gwen Ramsey, Jason James
Make-Up Effects Technicians- Cody Wilkins
Ryan Ward & Annie Tagge
Silicone Technician- Will Thornton
Effects Hair Lead/Supervisor- Sasha Camacho
Effects Hair Technicians- Sue Laprelle
Lynne Watson & Annelise Bois
Lead Sculptor/Painter- Daniele Tirinnanzi
Sculptors- Christopher Nelson, Justin Mabry
Shop Coordinator- Brian Walsh
Make-Up Effects Shop Production Coordinator-
Stephanie Ford
VVDFX Manager- Richard Courte
VVDFX Book Keeper- Kim Sparks
Turkish Lifecasting Services Provided By- Ahsen Gulkaya
Script Supervisor- Ronit Ravich-Boss
Script Clearances- Carolyn Plumb
Clearance Coordinator- Tara Larsen
Location Manager- Kale Murphy
Key Assistant Location Manager- Craig Rogers
Assistant Location Manager- Joe Packhiser
Locations Coordinator- M.J. Cocuzza
Second Second Assistant Director- Max Sturgeon
Key Set Production Assistant- Will Rimmer
Set Production Assistants- Hugo Garza, Cole Huey
Katherine McManus, Phil Yarbor
Crystal Frid, Caitlyn Wolfe
Casting Associate- Ally Conover
Casting Assistant- Faith Abraham
Locations Casting- John Williams, Karmen Leech
Extras Casting By- Tona Dahlquist
Extras Casting Assistant- T. Ryan Hill
Still Photographer- Ryan Green
Animal Wranglers- Greg Tresan, Nigel Hambrick
Courtney Clarke, Ashley Barrientos
Assistant To Mr. Green- Julian Lawitschka
Office Production Assistants- Laura Tassinari
Robert Hopkins & Shawn Mertz
Cast Assistant- Brooke Baggott
Art Department Production Assistant- Lydia King
Costume Production Assistant- Amanda Garsys
Locations Set Production Assistants- George LeFave
Thorin Thompson, Jeff Dauer, Corey Howard
Stand-Ins- Kelly Borgnis, Clay Heatley, Laurie Yeh
Construction Coordinator- Tom Jones Jr.
General Foreman- Joshua Ellsworth
Shop Foreman- James Martishius
Foremen- Gerald Kern, Jesse Williams
Toolman- David Thrift
Construction Buyer- Durell Lefler
Gang Bosses- Brian Hill, Cody Ball
Propmakers- Jack Caldwell, Joshua Jones
Chris Kuder, Phillip Ducker
Victor Zaldivar, Jeffrey Kramer
Lead Scenic- Sean Bernard
Paint Foreman- John Morgan
On-Set Scenic- Stephanie Macomber
Set Painters- Darlene Vega, Katherine Parker
James Onate, George Palmer, Derek Morgan
Key Greensman- Henry Dando
Greensmen- Joe Laban, John Ganey
Transportation Coordinator- Lee Siler
Transportation Captain- Robert Gillis
Picture Car Coordinator- Tim Walters
Transportation Drivers- Todd Anderson, Brendan Ayer
Ken Boston, Edwin Bowden, Jeff Corbett, Jeff Couch
Paul Davis, Lo Dodson, Fred Farrington, Shanen Flynn
Carole French, Tina Gillis, Chris Love Sr, Jeff McLaughlin
Tom Moore, Ladonna Norwood, Redding O'Shea, Terra Patterson
John Shawarko, Taylor Simpson, Jesse Smith, Kirk Smith
Wayne Smith, Greg Stancil, Vance Sadano, David Tibbetts
Dave Totten, David Welty, Tom Woodard
DDT- Tonie Farace
Studio Teacher- Laura Bartlett
Key Craft Services- Keith Sweeney
Craft Services Assistant- Barbara Dole
Catering- Cinema Catering, Phillippe Gallichet
Head Chef- Tom Huston
Chef Assistants- James R. Tibbetts
Jason McAlhany, Patrick Boyd
Set Medic- Brian Turner
Additional Set Medic- Stephen D. Corbett
Additional Set Medic- Thomas B. Glick
Laurie's Compound Unit-
Production Coordinator- Madison Lacerte
Assistant Production Coordinator- Stephanie Louie
Office Production Assistant- Mika Ross
Dailies Runner- Dillon Mann
Second Assistant Accountant- Keia N. Minor
Payroll Clerk- Andrew Chalk
Set Designer- Ricky Aguirre
Leadman- Bruce Williamson
Set Dressers- Carson Gloster, Melissa Wooten
First Assistant Director- James Moran
Second Assistant Director- Marc Newland
Second Second Assistant Director- Phil DeSanti
Set Production Assistants- Emerald Black
Sean Beck, Kurt Schlachter
Additional Photography- Paul Daley
"A" Camera Second Assistant Camera- Grace Chambers
"B" Camera Operator/Steadicam- John C. Lehman
"B" Camera Second Assistant Camera- William Hand
Camera Utility- Nick Gowin
Digital Image Technician- Jason Johnson
Doll And Pattern Making Services Provided By- Laurie Wagner
Propmakers- E. Paul Anderson, Micah Turner
Kevin "Kavey" Halas, Lance Carter
Costumer Supervisor- Sarah Dano
Key Set Costumer- Dalia Dalili
Costumer- April Traquina
Costumer- Brooke Clegg
Costume Production Assistant- Taylor Addison
Chief Lighting Technician- Travis Travis
Assistant Chief Lighting Technician- Ben Davidson
Lighting Technicians- Andrew Morrison, Marshall Hamilton
Key Grip- W. Dave Justice
Best Boy Grip- Brian Knox
Company Grip- Greg Eddins
Rigging Best Boy Grip- Harrison Palmer
Rigging Grips- Leslie Gordon, Jason W. Batey
Location Manager- Ben Stolte
Location Assistants- George LeFave, Jeff Dauer
Jake Turner, Russell Major
Script Supervisor- Jenna Dayton
Boom Operator- Peter Keller
Sound Utility- Nathaniel "Sanel" Irvin
Special Effects Set Foreman- Brendan McHale
Special Effects Technicians- Christopher Sciacca
Josh Von Badinski, Phil Fravel, Aaron Failing
Special Effects Assistant- Ryan Daly
Key Make-Up Effects Artist- Margie Kaklamanos
Stand-In- John Schafer
Video Assist- Tony Jenzano
Visual Effects On-Set Supervisor- Peter Vazquez
First Assistant Editor- Drew Sacks
Post Production Coordinators- Olga Hamlet, Ben Simpkins
Post Production Assistants- Derek Larsen, Kali Kasashima
Post Effects Guy- Rob Yamamoto
Sound Editorial Services Provided By- Pacific Standard Sound
Sound Mixing Services Provided By- Sony Pictures Studios
Culver City, California
Supervising Sound Editor/Sound Designer- P.K. Hooker
Supervising Sound Editor- Will Files
Supervising Re-Recording Mixer- Joel Dougherty
Re-Recording Mixer- Jeremy B. Davis
Sound Designer- Chris Terhune
Effects Editors- Randy Torres
Lee Gilmore & Ken McGill
ADR Supervisor- David Bach
ADR Mixer- Howard London, Sony Studios
ADR Mixer- Chris Navarro, Formosa Group
ADR Mixer- Jon Vogl, Apex Post Production
ADR Mixer- Patrick Christensen, Soundlounge
ADR Mixer- Mark DeSimone, Soundlounge
ADR Mixer- Judah Getz, Technicolor
ADR Mixer- Milos Stojanovic, De Lane Lea
Dialogue Editor- Ryan Cole
Foley Services Provided By- Foley One
Foley Artist- Steve Baine
Foley Recordist- Peter Persaud
Foley Assistant- Gina Wark
Studio Manager- Duke Lim
Loop Group Provided By- Loop Who's Talking
Loop Group Coordinators- Fabiana Arrastia, Susan Boyajian
Score Produced By- John Carpenter, Cody Carpenter, Daniel Davies
Score Mixed By- Daniel Davies, John Spiker
Score Recorded By- John Carpenter, Cody Carpenter, Daniel Davies
Music Editor- Michael Bauer
Music Supervisor- Devoe Yates
Music Consultants- Amman Abbasi, Jacob Nathan
Main Titles Created By- Greenhaus GFX
End Titles Created By- Jay Johnson
Digital Intermediate Provided By- Company 3, New York
Colorist- Tom Poole
Conform- John Diesso
Color Assistant- Jake White
Head Of Production- Margaret Lewis
Account Executive- Jim Gardner
CO3 Executive Producer- Stefan Sonnenfeld
Textured By- Livegrain
Dailies By- Company 3, Atlanta
Dailies Colorist- Gabriele McIntyre
Dailies Operators- Karli Windischmann
Raymond Calderon, Tedd Pfeifer
Dailies Engineer- Hunter Furnish
Dailies Producer- Scott Salamon
Visual Effects By- Cutting Edge
VFX Supervisor- Simon Maddison
VFX Producer- Jane Reynolds
Head Of Post Production- Marcus Bolton
VFX Executive Producer- Georgie Uppington
Compositing Supervisor- Niki Bern
CG Supervisor- Jensen Toms
VFX Coordinators- Tu Nhi Lam, Syna San
3-D Digital Artists- Chelsea Shannon
David Williams, Jake Dobbie
Compositors- Darren Coombes, Glenn Cone
Kate Bernauer, Marco Sgubin, Mark Kwanten
Mina Reyad, Monique O'Halloran, Nadia Ascione
Nandakumar Payankulath, Randy Vellacott
Tane Welham, Tim Preston, Tim Shultz
Clean Up And Rotoscope- Kathryn Davis
VFX Editorial- Ethan Vellacott, Chase Worland
Pipeline- Romain Maurer, Paul Doessel
Production Accounting- Liberty Jackson, Moneypenny
Auditors- Christopher Coote & Co.
Production Legal- Reder & Feig, LLP, Benjamin R. Reder
Josh Shabani, Solmaz Schmidt, Alex Robbins
For Blumhouse-
Head Of Post Production- Jennifer Scudder Trent
Chief Financial Officer- Roland Wieshofer
Head Of Production Finance- Aaron Khristeus
Head Of Production Finance- Amy Agzarian
Manager Of Production Finance- Cody Heffelfinger
Head Of Marketing- Teri Everett
Head Of Business & Legal Affairs- Caroline Raufi
Associate Counsel, Business & Legal Affairs- Kasia Campbell
Manager Of Business & Legal Affairs- Mary Carol Bulger
Manager Of Physical Production- Courtney Nicholas
Assistants To Mr. Blum- Monica Mabrey, Sammy Warshaw
Danielle Hawkes, Riley Geis
Assistant To Mr. Samuelson- Eric Odioso
Assistant To Ms. Raufi & Ms. Everett- Gabby Zemer
For Miramax-
Chief Operating Officer And General Counsel- Bob Osher
Studio Executive In Charge Of Production- Matthew J. Anderson
EVP, Strategy & Business Development- David Cragnotti
SVP, Strategy & Business Development- Jeremy Gross
Vice President, Finance & Controller- Annie "C.J." Chang
Vice President, Business & Legal Affairs- Robin B. Hilman
Assistants To Mr. Block- Lauren Bond, McKenna Marshall
For Trancas International Films-
Outside Legal Counsel- Wayne Kazan
Head Of Post Production- Tom Fleming
Head Of Finance- Amilicar Jones
Executive Assistant- Beau Scott
Production Insurance Provided By- Arthur J. Gallagher & Co.
Payroll Services Provided By- Entertainment Partners
Extras Payroll Provided By- Sessions Payroll Management
Alexa Camera Equipment Provided By- Alternative Rentals
Electric Equipment Provided By- Cinelease, MBS
Sourcemaker Lighting, Bulldog Lighting
Grip Equipment Provided By- Griporama
Dolly Provided By- High Output
Graphics Provided By- Red Falcon Ink
Judith Myers Headstone Created By- Worth Monument Company
Custom Stained Glass Provided By- Charlestowne Stained Glass
Script Clearances By- Marshall/Plumb Research Associates, Inc

Footage From "Halloween" (1978)
Courtesy Of Compass International Pictures, Inc.

Footage From "Voyagers"
Copyright 1983 Universal Television
Courtesy Of Universal Studios Licensing LLC

Footage From "Repo Man"
Copyright 1984 Universal City Studies, Inc.
Courtesy Of Universal Studios Licensing LLC

"Back To The Future" Pinball Machine
Copyright 1985 Universal City Studios, Inc.
Courtesy Of Universal Studios Licensing LLC

"Halloween III: Season Of The Witch" Masks
Copyright 1982 Universal Pictures
Courtesy Of Universal Studios Licensing LLC

Special Thanks- Angelina Akkad, Patricia Akkad
Tarek Monla, Moustapha Monla, Ziad Monla
Erin Freimann, Melanie Kuan, Ben Grant, Imperial Toy
In Loving Memory- Aaron Khristeus
Filmed In South Carolina Pursuant To The South Carolina
Motion Picture Incentive Act
Filmed In- Dolby Surround 5.1 Sound
Copyright 2018 Night Blade Holdings LLC
All Rights Reserved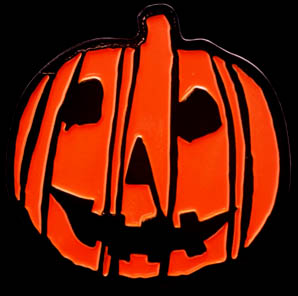 Back To The Lair Of Horror