DID YOU KNOW?



1. In Julian's bedroom, there is a rotating lamp that features a clown with a knife, a nod to Michael's first kill (Judith) in the original film.

2. Michael Myers is listed in the credits as 'The Shape', just like the original film.

3. Actor Jake Gyllenhaal helped convince Jamie Lee Curtis to reprise her role of Laurie Strode for the film. Jake is a family friend of Curtis' and is dubbed by her as an unofficial godson.

4. This film had the biggest opening weekend in the franchise, with $76.2 million domestically. It also had the biggest horror movie opening with a female lead, biggest movie opening with a female lead over 55, second-biggest horror movie opening ever after 'It' (2017), and second-biggest October opening ever (after 'Venom' (2018)).

5. Many actors auditioned for the role of Allyson, including Lucy Hale and Emma Roberts. However, the studio decided that they wanted to go back to the roots of the first movie and cast an unknown actress, similar to how Jamie Lee Curtis was cast in the original.

6. The date the film was released in the U.K. & U.S.A. is the day Michael Myers was born (October 19th).

7. On TV during the film, a newscaster can be heard describing the events of the original film as "the babysitter murders". This was originally the title Carpenter wanted for the original film, but it was only changed to 'Halloween' after producer Irwin Yablans thought up the idea and to release it near Halloween.

8. Original cast members returning included Jamie Lee Curtis, Nick Castle and P.J. Soles, who plays the school teacher. Original director John Carpenter returned as executive producer and handled the musical score. Although Carpenter generally prefers not to be personally involved in sequels and remakes of his works (he usually accepts an 'original screenplay' credit), producer Jason Blum convinced him into taking a more active role in this movie as a 'spiritual advisor'. Carpenter met director David Gordon Green and writer Danny McBride, loved their pitch of the story, and contributed with several script ideas.

9. Writer Danny McBride said that they originally planned to do two back-to-back movies, but they decided to scale it back to one film. "We were like, 'let's learn from this, and see what works, and what doesn't,'" explained McBride. "But we definitely have an idea of where we would go (with) this branch of the story and hopefully we get a chance to do it." Two back-to-back sequels, Halloween Kills (2020) and Halloween Ends (2021), were subsequently greenlit in July 2019.

10. In 2017, when promoting 'Alien: Covenant' (2017) on the Empire Film Podcast, it was joked that Danny McBride would also be starring as Michael Myers due to his large build. McBride immediately shot that down, saying, "Oh god no! Mike's supposed to be a terrifying creeper with good posture, not Homer Simpson!"

11. A radio call coming over the police band mentions a "disturbance at 707 Meridian", a tribute to the real life original address of the Myers House in 'Halloween' (1978) before it was moved a few blocks down in Pasadena, California.

12. Two kids bump into Michael before he grabs the hammer from the garage. One kid is shouldering a toy boombox, which is a tribute to a scene in 'Halloween II' (1981), where Michael (Dick Warlock) bumps into Dick's real-life son (Lance Warlock), carrying a boom box.

13. John Carpenter claimed that this would be the last Halloween film, even though there were contractual obligations for a sequel. As of November 2019, two sequels are already in development, and he is rumored to return in the same role, as well as handle the music.

14. The song that is playing when Lumpy and his dad notice the bus crash is a western version of the song that Laurie sings in the original movie ('I Wish I Had You All Alone'). This song can also be heard later during the end credits.

15. In the early phases of preproduction, the film was said to be not a "remake" nor a "reboot" but a "recalibration" of the character Michael Myers. However, after co-writer and director David Gordon Green and co-writer Danny McBride took over the project, these two stated that it would be none of the aforementioned, and that the film was going to be a direct continuation of the original film, ignoring all the sequels.

16. Throughout the film, several characters talk about Cameron's (Dylan Arnold) dad Lonnie and what a troublemaker he was and continues to be. In the original 'Halloween' (1978), Lonnie Elam (Brent Le Page) was a sixth grade bully who constantly harassed Tommy Doyle (Brian Andrews), the boy Laurie (Jamie Lee Curtis) was babysitting. He would later be scared by Dr. Loomis (Donald Pleasence) outside the abandoned Myers House.

17. The gas station used in filming is almost an exact replica of the gas station featured 'Halloween 4', complete with the ice box outside.

18. In keeping with this new timeline, Michael Myers is 61 years old in this film (he was 21 in the original).

19. Director David Gordon Green said in interview for 'Collider' that the first cut of the film was two hours and fifteen minutes long, and that both the "fat" of the film and entire scenes were cut out for pacing and length. This explains why there are so many deleted and alternate scenes in all the trailers and behind the scenes footage for the film.

20. While the film ignores all previous sequels and reboots, it pays homage to all 'Halloween' films, as intended by the writers.

21. Jamie Lee Curtis immediately hit it off with co-writer and director David Gordon Green, crediting him with reminding her of original 1978 'Halloween' director and suspense master John Carpenter.

22. New Michael Myers actor James Jude Courtney actually consulted with real-life killers on how to kill people and make his performance believable. "There's a stealth efficiency to the way an actual trained killer works," Courtney said. "Movies tend to dilute that quality with dramatic pauses and dialogue, which a true predator would never waste time doing. That efficiency is what I took to the part of Michael Myers. Michael has been locked up for 40 years so he's had a long time to think about killing, but obviously, he's still efficient and driven so I wanted to make sure people see that in my performance".

23. Filming lasted 28 days, in and around Charleston, South Carolina. No scenes were filmed in Pasadena, California, where the original was shot.

24. This film marks Jamie Lee Curtis' sixth film in the franchise, passing Donald Pleasence for the most all-time. She portrayed Laurie in the first two films, and later reprised the role in 'Halloween H20' and 'Resurrection'. She was also the voice of the Santa Mira curfew announcer and telephone operator in 'Halloween III: Season Of The Witch', but was uncredited.

25. During the trick-or-treat scenes, a trio of children can be seen together wearing a skeleton costume, witch costume and pumpkin costume. This is a nod to 'Halloween III: Season Of The Witch' (1982), in which the Silver Shamrock company's skeleton, witch, and pumpkin masks are the driving plot device.

26. This film was the first in the franchise to use multiple masks with slightly varied cracks, wrinkles, hairstyle, etc. Many people thought the original film used different masks, but there was only one.

27. At age 70, Nick Castle is the oldest actor to play Michael Myers. He is also the third actor to play him more than once, behind George P. Wilbur ('Halloween 4' and 'Halloween 6') and Tyler Mane (Rob Zombie's 'Halloween' (2007) and 'Halloween II' (2009)).

28. While John Carpenter intended for this film, with his involvement, to be the last definitive Halloween specifically featuring antagonist Michael Myers, co-writer Danny McBride and co-writer/director David Gordon Green quickly indicated that possible sequels were not out of the question, with the concept of creating a rounded trilogy. Carpenter later said that he was open to suggestions as long as he is being paid. McBride and Green got their wish, with 'Halloween Kills' (2020) and 'Halloween Ends' (2021) greenlit, thus completing their trilogy, with Carpenter's involvement.

29. When Danny McBride was promoting 'Alien: Covenant' (2017) on The Nerdist Podcast with Chris Hardwick and asked on this unusual project for him, McBride responded, "There's more to life than dick and fart jokes. It's fun and, quite honestly, pretty terrifying to verge into new territory. Now it's accidentally even more terrifying not because of this character, but the history of this franchise and reputation of remakes. We wanna do something special- I mean that."

30. Changing what was canon in the original series, Michael and Laurie are not brother and sister in this version.

31. The music is composed by John Carpenter, his son Cody and his godson Daniel Davies. The trio had previously collaborated on John Carpenter's 'Lost Themes' and 'Lost Themes II' albums.

32. On September 15, 2017, Jamie Lee Curtis announced her return to the franchise for this film on Twitter.

33. To achieve the intro sequence of the pumpkin rising back up, director David Gordon Green revealed that a normal pumpkin was placed in front of a camera over a period of a few weeks until it rotted and slumped down. The footage was then reversed and edited properly for the title sequence to give it the illusion the pumpkin was rising on its own, being reborn.

34. This is the first Halloween film shot entirely digital instead of on film.

35. While Vicky is babysitting Julian, she is wearing a white shirt with yellow sleeves. In the original 'Halloween' (1978), Tommy Doyle is wearing pajamas with a white top and yellow sleeves when he lets Laurie back in the house as she is chased by Michael Myers.

36. This film is distributed by Universal Pictures, marking their first involvement with the franchise since distributing 'Halloween III: Season of the Witch' in 1982.

37. Among the programs shown on the TVs are an episode of the 1983 series 'Voyagers' and the film 'Repo Man' (1984).

38. The scene where Allyson walks down the street with Vicky and Dave mirrors the original film, in which Laurie does the same with the Annie and Lynda.

39. Allyson mentions that Halloween is a school night. Halloween in 2018 was in fact on a Wednesday, a school night.

40. When Allyson is walking with her friends in the beginning, Dave says her family should just put up a Christmas tree on Halloween. Later, when Laurie and the police come to her daughter's house to take them to safety on Halloween night, Karen is actually wearing a Christmas sweater.

41. Sophia Miller, the actress who plays young Karen Strode in the film, cut 13 inches off of her hair for the role. She later donated the hair to an organization that makes wigs for children with hair loss.

42. The opening credits are done in the style of "zooming in on a jack-o-lantern" like the original two movies, but the pumpkin is smashed, and slowly reassembles itself as the camera zooms in.

43. The film was released 40 years after the original (1978), 30 years after 'Halloween 4: The Return Of Michael Myers' (1988) and 20 years after 'Halloween H20' (1998).

44. Producer Jason Blum claims to have never worked on a project as anticipated as this film.

45. Danielle Harris has said in a live Internet Q&A session on her social media that she attempted to "put in a call" to include her character Jamie (Laurie Strode's daughter from 'Halloween 4' and 'Halloween 5') in the new movie in some capacity, but the producers were not interested and vetoed this, as their new movie ignores the events of those films.

46. With this film, there are now five distinct Halloween timelines:
1) 'Halloween' (1978), 'Halloween II' (1981), 'Halloween 4' (1988), 'Halloween 5' (1989) and 'Halloween 6' (1995).
2) 'Halloween III: Season Of The Witch' (1982), is a completely separate continuity.
3) 'Halloween' (1978), 'Halloween II' (1981), 'Halloween H20' (1998) and 'Resurrection' (2002).
4) 'Halloween' (2007) and 'Halloween II' (2009) (series reboot).
5) 'Halloween' (1978), 'Halloween' (2018), 'Halloween Kills' (2020) and 'Halloween Ends' (2021).

47. Initial promotional photos for the film displayed Jamie Lee Curtis with the same short haircut she had worn in previous roles, including 'Halloween H20' (1998); in the finished film, she has long hair like Laurie did in the original film.

48. The film premiered at TIFF (Toronto international Film Festival) in Canada on September 8, 2018.

49. The working/production title on set was "Uncle Orange". Working titles included 'Halloween Returns' and 'Halloween H40: 40 Years Later' (an obvious pun on 'Halloween H20: 20 Years Later' (1998)).

50. In September 2009, before pre-production was shut down, Patrick Lussier and Todd Farmer (writers of 'My Bloody Valentine' (2009)), wrote a script and even talked Tyler Mane into returning to play Michael Myers. Shortly after pitching the script, the company shut down production, saying the script was good, but there wasn't enough time for the project to be finished in time.

51. Production for 'Halloween 3-D' was shut down on Tuesday, September 29, 2009, because The Weinstein Company ran out of money. They had just received the first draft of the screenplay on Friday, September 25, 2009 and shooting was supposed to start in November to end in time for Director Patrick Lussier to start shooting another film from a prior engagement in January, 'Drive Angry' (2011) with Nicolas Cage. In May of 2014, Todd Farmer confirmed that neither he nor Lussier were involved in the project any longer.

52. After failing to develop a new Halloween film in time, Dimension Films lost the production rights for a sequel, which reverted back to Miramax. Miramax then joined with Blumhouse Productions. In May 2016, a new installment was officially announced, with original co-creator John Carpenter's involvement as a composer, executive producer, and creative consultant. Principal photography commenced on January 13, 2018 in South Carolina, and concluded on February 19, 2018.

53. Illustrations of Dr. Samuel Loomis appear amongst Aaron's (Jefferson Hall's) collected files on Michael Myers.

54. The doll house at Laurie Strode's farmhouse is similar to the house Michael Myers grew up in.

55. Much like 'Scream 4' (2011), this movie features the main series heroine return to her hometown where she attended high school, and where her high school friends were killed. Laurie's teenage female relative and her mother are prominent characters, and killings occur again. In 'Scream 4' (2011), franchise protagonist Sidney Prescott had returned to her hometown, where her teenage cousin Jill and her friends are targeted by the killer get-up of Ghostface, which Sidney had dealt with before. 'Scream' pays heavy homage to 'Halloween'.

56. Several scenes/kills pay homage to other Halloween films:
1) The bus crash with the Smith's Grove patients wandering around is similar to the opening scene of the original film, where Loomis arrives at Smith's Grove and several patients are wandering around.
2) Lumpy is killed in the same way that Annie Brackett was in the original film.
3) Trick-or-treaters can be heard singing the nursery rhyme from the opening of 'Halloween' when Michael is about to kill the neighbor with the hammer.
4) Trick-or-treaters can be seen wearing the three Silver Shamrock masks from 'Halloween III: Season Of The Witch' (1982).
5) The kids walking down the street are similar to the original film, where it was Annie, Laurie and Lynda walking home.
6) The gas station setup is very similar to the station in 'Halloween 4'. 7) Aaron, the male journalist is killed the same way as Joe Grizzly in the Rob Zombie's 'Halloween' (2007) by slamming him over and over, with the slight difference that he isn't stabbed.
8) Vicky has a sheet placed over her like Michael wore over himself in the original 'Halloween' (1978) and Rob Zombie's reboot (2007).
9) Vicky's boyfriend is impaled by a large knife similar to how Bob was killed in the in the original film.
10) Julian runs out to get help screaming the same way Lindsey and Tommy did in the original film.
11) The two cops outside Laurie's home are a reference to the two cops at the Tower Farm in 'Halloween 5'.
12) Michael is apparently burned in the ending much like he was in 'Halloween II' (1981).
13) Laurie falls off a balcony and later is seen missing much how the original 'Halloween' (1978) ended.
14) When Michael kills Dr. Sartain, he does so the same way he kills the bouncer by stomping his head in Rob Zombie's 'Halloween II' (2009).
15) The father who finds the crashed bus with his son has his neck broken in similar way the trucker in 'Halloween 6' has his neck broke in the Producer's Cut of the film. 16) Much like Michael used his home to kill people in 'Halloween: Resurrection' (2002), Laurie uses her home to kill Michael in this one.

57. This film marked the first 'Halloween' film to be released in October since 'Halloween 5'.

58. Leigh Whannell (of 'Saw' fame) expressed interest in playing Michael Myers.

59. This is the third film to simply be titled 'Halloween', after the original and Rob Zombie's 2007 reboot.

60. Tony Moran and Tyler Mane, the only actors to play a fully unmasked Michael Myers, were not approached to make an appearance in this film.

61. Trick or Treat Studios obtained the official costume licensing rights for the film. Both Nelson and Vincent Van Dyke joined their design team, who used toolings from the screen-used mold of Michael Myers' mask to adapt it for mass market sale.

62. This film was David Gordon Green's first horror film.

63. The film was released just 8 days shy of the 40th anniversary of the 1978 original film.

64. Right before the father (Brien Gregorie) and son (Vince Mattis) find the crashed bus and escaped Smith's Grove patients, the son is telling his father about how much he enjoys his dance classes. Prior to his involvement on 'Halloween' (2018), director David Gordon Green spent almost a decade working on a re-imagining of Dario Argento's 'Suspiria' (1977), about the horrors going on inside a revered dance academy, eventually leaving the project due to budgetary restraints and legal concerns. An updated 'Suspiria' (2018) was eventually made and was directed by Luca Guadagnino, who'd personally hired Green to direct the film when he was working on it as a producer. It was released a week after 'Halloween'.

65. Laurie uses a Smith and Wesson Model 66, a Mossberg 500 Cruiser, and the Winchester 1873 rifle in the film.

66. This is the second horror sequel/prequel to have the exact same title as its original, in this case 'Halloween' (2018), which follows 'Halloween' (1978). The other one is 'The Thing' (2011), being a prequel to 'The Thing' (1982). Both the original films were directed by John Carpenter.

67. The yellow lined checkered squares at the institution contain the most dangerous patients, which is why Michael (James Jude Courtney) was among three others contained during Aaron (Jefferson Hall) and Dana's (Rhian Rees') visit.

68. Dr. Loomis in 'Halloween' (1978) and Laurie Strode in this film say the same phrase, "That's the idea" in reference to a containment action against Michael Myers.

69. Judy Greer's 'Ant-Man' (2015) co-star Paul Rudd had his first starring role in 'Halloween 6' (1995).

70. All of the police vehicles have the sign of Warren County. Warren County is where Western Kentucky University (John Carpenter's alma mater) is located.

71. In an early script for 'Halloween 4' (1988), Michael was going to escape from a prison bus before it was ultimately changed to an ambulance. That original idea was used here.

72. Officer Hawkins is playing a pinball game featuring 'Back To The Future' (1985). The song 'Mr. Sandman' can be heard in 'Halloween II' (1981), 'Halloween H20' (1998), 'Halloween' (2007), 'Back To The Future' (1985) and 'Back To The Future Part II' (1989).

73. Podcasters Dana (Rhian Rees) and Aaron (Jefferson Hall) use an unmarked Tascam DR-40 digital audio recorder.

74. The device that plays Dr. Samuel Loomis' voice (performed by Colin Mahan) is a Sanyo TRC-8300 Memo-Scriber.

75. Dr. Sartain's name is a tribute to famous character actor Gailard Sartain.

76. This is Judy Greer's third role in a horror movie, following 'Cursed' (2005) and the second remake of 'Carrie' (2013).

77. Jamie Lee Curtis revealed to Chris Hardwick on his Nerdist podcast that she performed the sounds of the baby crying when Michael walks through the house after slaughtering the resident with a hammer and grabbing a butcher's knife from the kitchen.

78. At the very end of the film (after the credits), you can hear Michael Myers breathing through his mask, just like the final scenes of the original film.

79. This is the first film in the series in which Michael kills a young child.

80. Many things that Michael did in 'Halloween' (1978), Laurie echoes in this film:
1) Michael is shot off a balcony in the original, but upon inspection, his body disappears; in the new version, Laurie is thrown from a balcony by Michael, but when he checks her body, she has disappeared.
2) In the original, Michael found Laurie hiding inside a wardrobe closet; in the new version, Laurie thinks Michael is hiding inside a wardrobe closet (only he is not).
3) Laurie appears from the shadows behind Michael just like Michael did to her in the original.
4) Laurie stands outside the school looking at Allyson from across the street, just like Michael did to her in the original.

81. When Allyson walks down the street with her friends, Dave claims to have heard that Laurie Strode was Michael Myers's younger sister; however, Vicky says this was made up by other people to make themselves feel better. This is a clear jab at 'Halloween II' (1981), where Laurie was famously revealed to be Michael's baby sister, a fact that even she was unaware of. John Carpenter later admitted that he wrote the script for 'Halloween II' primarily for the money; he had included the family relation between Laurie and Michael simply as a plot device, something which he later regretted. Since this film ignores all the sequels, the record is set straight again.

82. After the filming was completed in February 2018 and first 135 minutes long cut of the film was put together, it was test screened to an audience in April. Following the one or more test screenings, it was decided to re-shoot some parts of the film and change the ending, mostly due to a negative response from the audience. The new ending was filmed in June, and this is the one which ended up in the final film.

83. Laurie finds Ray's dead body on a shelf in the closet in 'Halloween' (2018), drawing a parallel to where she finds Lynda's body in 'Halloween' (1978), on a closet shelf.

84. Laurie Strode's drive in the film to have Michael escape so she may kill him is a direct throwback to Dr. Samuel Loomis' obsession with destroying Michael Myers from the original and all its respective sequels.

85. The neighbor that Michael kills while she talks on the phone to her friend Sally is named Alice. Michael also killed Alice Martin in 'Halloween II' (1981), while she was talking on the phone to her friend, who was also named Sally.

86. In the flashback scene where young Karen (Sophia Miller), is shooting the bolt action rifle you can hear the word "Gotcha" as the rifle bolt is racked. This is foreshadowing to the end of the film where adult Karen (Judy Greer) says, "Gotcha" as she shoots Michael Myers.

87. Dana's (Rhian Rees') bathroom stall encounter with Michael Myers is an homage to 'Halloween H20' (1998), in which mother Claudia has a a rest stop encounter with Michael in the restroom.

88. This film marks the third time in a 'Halloween' movie where Michael is burned, following 'Halloween II' (1981) and 'Resurrection' (2002).

89. This film contains various tributes to 'Halloween II' (1981):
1) Michael being run over resembled Ben Tramer's demise.
2) The owner of the house with the motion sensor lights is named Mr. Elrod.
3) The woman with the curlers killed by Michael with a hammer is meant to resemble Mrs. Elrod.
4) One of the boys Myers bumps into is carrying a boombox, a nod to the scene from the movie.
5) Allyson and her friends talk about Laurie being Michael's sister only for it to be debunked.
6) The climax of the film had Myers being burned alive.

90. When Ray discovers the two cops dead in the cop car, is similar to 'Halloween 5' (1989), when Tina discovers the dead bodies of Deputies Nick and Tom, in the cop car who were both killed offscreen, by Michael with a pitchfork.

91. The manner in which Michael kills Dr. Sartain by crushing his head, is similar to Rob Zombie's 'Halloween II' (2009), when Michael kills Howard by crushing his head to a bloody pulp.

92. In the gas station scene, whenever Aaron walks in the garage and finds the mechanic bludgeoned, there is a vehicle on the lift that has the name "Jimmy". Jimmy is, of course, a paramedic in 'Halloween II' (1981) and rumored to be Jamie Lloyd's father.

93. Laurie uses a Winchester to defend herself against Micheal. It is interesting to note, in the original 1978 film, the young Laurie and the children she babysits are watching Howard Hawks' 1950 classic 'The Thing' (which John Carpenter remade in 1982). Winchester is not only Hawks' middle name, but he also named his production company Winchester Films. In the 1978 version, Carpenter shows the Winchester Films logo before the opening credits of the 1950 version of The Thing. Carpenter acknowledges Hawks as a major influence.


Know any assorted facts that we don't have here? E-mail them to us at: lairofhorror@yahoo.com and you will get credit for them.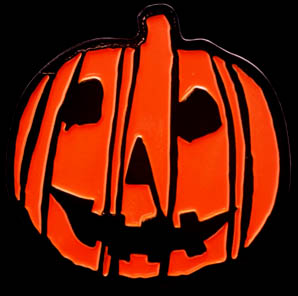 Back To Halloween Page
Back To The Lair Of Horror