Release: Friday, October 7, 1994
Re-Release: Friday August 29, 1997
Company: Columbia Pictures
Length: 86 minutes
Uncut Version: 95 minutes
Tagline: If Looks Could Kill...
He Wouldn't Need A Chainsaw
Budget: $600,000 million
Domestic Box Office: $94,558
Opening Weekend: $53,111
Sound Quality: Ultra-Stereo
Film Locations: Austin, Texas
Pflugerville, Texas
Film Availability: VHS, DVD, BLU-RAY, DIGITAL
Soundtrack Availability: None



CORONER'S REPORT




1. BOY (Vince Brock)- Injured in car crash, neck later broken
2. SEAN (John Harrison)- Hit by wrecker, ran over repeatedly
3. BARRY (Tyler Cone)- Sledgehammer to head
4. HEATHER (Lisa Newmyer)- Hung on meathook, later burned, stomped to death
5. VILMER (Matthew McConaughey)- Airplane propeller to head

Film Total: 5
Series Total: 80



LEATHERFACE'S BATTLE SCARS




1. Breaks through wooden door
2. Breaks through glass wall
3. Shocked with cattle prod
4. Shocked with cattle prod four times

Film Total: 4
Series Total: 51



SOUNDS


Opening Narration
BARRY: "Guys need sex, ok? You can get prostrate cancer..."
DARLA: "They're always doing something to get me to flash 'em..."
VILMER: "Boy's dead..."
VILMER: "Alright racing fans, here...we...go!"
W.E.: "I propose to fight it out on this line, if it takes me all summer..."
W.E.: "Among evils being unarmed brings you...causes you to be despised..."
VILMER: "You gotta watch getting into cars with strangers these days..."
VILMER: "It ain't Saturday morning cartoons, if you know what I mean..."
JENNY: "No...he's out there with a chainsaw!"
W.E.: "It is easier to resist at the beginning than at the end..."
W.E.: "Look what your brother did to this door..."
VILMER: "Let me ask you one question...are you having fun yet?"
DARLA: "Don't you let him get to you...'casue that's what he wants..."
VILMER: "I've got a mind...to slit your goddamn throat!"
VILMER: "Pop goes the weasel!"
VILMER: "Welcome...to my world!!!"
W.E.: "No respect...no discipline...family values have gone straight to hell..."
JENNY: "The only reason for any of this is that he's a psycho and gets off on it..."
JENNY: "If you're gonna kill me, then do it!"
ROTHMAN: "This...is...appalling..."
ROTHMAN: "I want these people to know the meaning of horror..."

CAST AND CREW



LEATHERFACE- ROBERT JACKS
JENNY- RENEE ZELLWEGER
VILMER- MATTHEW MCCONAUGHEY
DARLA- TONIE PERENSKY
W.E.- JOE STEVENS
HEATHER- LISA NEWMYER
SEAN- JOHN HARRISON
BARRY- TYLER CONE
ROTHMAN- JAMES GALE
ROTHMAN'S CHAUFFEUR- CHRIS KILGORE
BOY- VINCE BROCK
JENNY'S MOTHER- SUSAN LOUGHRAN
JENNY'S STEPFATHER- DAVID LAURENCE
GRANDFATHER- GRAYSON VICTOR SCHIRMACHER
WOMAN EATING CHOCOLATES- JEANETTE WIGGINS
GIRL IN RED DRESS- CARMEN NOGALES
BRENDA- LISA CARAVEO
HECKLER- LES MARTIN
HECKLER- ADAM WHITE
HECKLER- BILL WISE
BUD'S PIZZA ATTENDANT- LOREN GUERRA
COP AT BUD'S PIZZA- DEREK KEELE
COP AT BUD'S PIZZA- DEBRA MCMICHAEL
RV WIFE- GERI WOLCOTT
RV HUSBAND- AXEL L. SCHILLER
STUFFED DPS OFFICER- ANDY COCKRUM
STUFFED FAMILY MEMBER- ROGER ROE
STUFFED FAMILY MEMBER- ANGEE HUGHES
STUFFED FAMILY MEMBER- REBECCA ROSENBERG
COP AT HOSPITAL- JOHN DUGAN
HOSPITAL ORDERLY- PAUL A. PARTAIN
PATIENT ON GURNEY- MARILYN BURNS
PROM GUY- RYAN WICKERHAM
PROM DATE- DERRICK SANDERS
PROM ATTENDEE- RYAN HESS
PROM ATTENDEE- HAYDEN NELSON
PROM ATTENDEE- TALISA YGLESIAS
PROM ATTENDEE- JEFFREY SOISETH
PROM ATTENDEE- RHONDA BERGAMY
PROM ATTENDEE- ASHLEY KISSINGER
PROM ATTENDEE- MIKE RHEINHEIMER
PROM ATTENDEE- SKYE JOHNSON
PROM ATTENDEE- JAMIE ROGERS
BUD'S PIZZA CUSTOMER- RACHEL RYAN
BUD'S PIZZA CUSTOMER- MIKE PASTOR
BUD'S PIZZA CUSTOMER- SHARLA LLOYD
BUD'S PIZZA CUSTOMER- KORTNEY LAWLOR
BUD'S PIZZA CUSTOMER- NATHAN DIERINGER
BUD'S PIZZA CUSTOMER- MILO TIDWELL
BUD'S PIZZA CUSTOMER- SHANE STINSON
BUD'S PIZZA CUSTOMER- JAMES HUGHES
BUD'S PIZZA CUSTOMER- MATT DUNTON
BUD'S PIZZA CUSTOMER- NATHAN DUNTON
BUD'S PIZZA CUSTOMER- IAN HENKEL
SOCCER KID- MARSHALL ADAIR
NARRATOR- FRED ELLIS
VOICE OF RADIO NEWS- WAYNE BELL
VOICE OF RADIO NEWS- BOB SIMMONS
VOICE AT PROM- STEPHANIE NORRIS
VOICE AT PROM- SHANE HOLT
VOICE AT PROM- STEVE BURKHART
VOICE AT PROM- ANNA BURKHART
VOICE AT PROM- AMMO ABSHIRE
VOICE AT PROM- MELANIE LANGEHENNING
VOICE OF RV COUPLE- WINK TYLER
VOICE OF RV COUPLE- JANELLE BUCHANAN

Directed By- Kim Henkel
Written By- Kim Henkel
Based On Characters Created By- Tobe Hooper & Kim Henkel
Produced By- Robert J. Kuhn & Kim Henkel
Supervising Sound Editor- Tom Hammond
Casting- Isabelle Emmanuelle Coulet
Production Designer- Deborah Pastor
Costume Designer- Kari Perkins
Music By- Wayne Bell
Editor- Sandra Adair
Director Of Photography- Levie Isaacks
Executive Producer- Robert J. Kuhn
Stunt Coordinator- David "Stutter" Sanders
Stunts- Jerry King, Laura J. King
Jody Haselbarth, Oscar Carles, John Hoyle
J.M. Logan, Andy Cockrum, Steve Kuhn
Stunt Pilot- Kenneth Lauderdale
Darla Body Double- Jeanie Sullivan
David "Stutter" Sanders
Associate Producer- Charles Kuhn
Executive Secretary- Brenda Playfair
Associate Editor- Eric A. Lewy
Production Supervisor- Loren Bivens
Production Manager- Cevin Cathell
First Assistant Director- Ed Cathell III
Second Assistant Director- Julia Lazarus
Production Coordinator- Nancy Schafer
Assistant Production Coordinator- Belinda Celis
Location Manager- Katie Cokinos
Production Secretary- Chris Kilgore
First Assistant Camera- Clark Lee Walker
Second Assistant Camera- Abby Antweil
Loader- Tiffany Toby
"B" Camera Operator- Loren Bivens
"B" Camera First Assistant- Abby Antweil
Stills- Todd Shane Morris, Jennifer Jaqua
And Ken Lichtenwalter
Gaffer- Curtis Herbert
Best Boy Electric- Scott Conn
Key Grip- Sean Devine
Best Boy Grip- Jason Maresch
Grips- Eliza Putnam Parkerson, John Hoye
Christopher Meyer, Edison Jackson
Robert Arjet & Eric Picket
Production Sound Mixer- Scott Szabo
Boom Operator- Allan Gill
Art Director- Clint "Willie" Sawin
Construction Coordinator- Robert "Andy" Blackwood
Property Master- Kevin Berve
Assistant Property- Jamie Panzer
Art Department Coordinator- April Eyerman
Set Dressers- Leslie Bonnell, Heyd Fontenot
Jennifer Schneider, James Bryant JacksoN
D. Montgomery, Frank Kozik
On-Set Dresser- Julia Kirt
Swing Gang- Sean McGowan, Kevin Smith
Jeff Smith & Scott Burton
Scenics- Adele K. Plauche & Debra Fischman
Lead Carpenter- Everett Byrom III
Carpenters- Jeff Hunter, Hank Schwemmer
Tim Swingle, Billy Bunch, Pat Davis
Thomas C. Warren & Chad
Art Aides- Karen Crisp, Jason Rogers
Michael Pastor, Sharla Lloyd, Stefanie Friedman
Valerie Dekeyser, Shannon Valderas, Brandy Peterson
Robin Lee & Kristen Hofopp
Storyboard Artist- Mark Lambert Bristol
Make-Up/Hair- Kim Pish
Assistant Make-Up/Hair- Shelley K. Meyer
Costumer- Kari Perkins
Assistant Costumer- Melanie Armstrong
Special Make-Up Effects- J.M. Logan
Special Make-Up Effects Assistant- Andy Cockrum
Script Supervisor- Samara Paysse
Additional Photography-
Production Manager- Christy Pipkin
Director Of Photography- Levie Isaacks
Prep Assistant Camera- Jimmy Lindsey
First Assistant Camera- Sebastian Vega
Gaffer- Curtis Herbert
Grip- Charlie Seligman
Production Assistants- Marc Chase, Daniel Wilson
Ken Nessling & Stephanie Norris
Special Make-Up Effects- J.M. Logan
Special Make-Up Effects Assistants-
Andy Cockrum & Daniel Nichols
Craft Services- Charles Hackett & Toni Harkings
Set Production Assistants- Patrick Gallagher & Lee Hunsaker
Office Production Assistants- Mimi N. McGreal
Ceasar Giagnocovo, R. David Ruiz, Derrick Sanders
Transportation Coordinator- Steve Kuhn
Transportation Captain- Cecil Johnson
Mechanic- Stephen Edwards
First Assistant Editor- Eric A. Lewy
Apprentice Editor- Justine Kalb
Dialogue Editor- Sheri Galloway
Effects Editors- Todd Toon & Chip Ritter
Leg Sound Effects- Dane Davis
Foley Artists- Ossama Khuluki & Katherine Harper
Assistant Sound Editors- Tricia Linklater & Peter Brancaccio
Mixer- Larry Seyer
Sound Effects- Danetracks, Inc.
Foley Recorded At- Sound Satisfaction
Mixed At- Austin Recording Studio
Post Production Facilities- Texas Motion Picture Services
Post Production Assistants- Stephanie Norris & Jay Mahavier
Catering- David Long & Eric Eisenhauer
Locations Catering
Grip Truck Driver- Larry Michael
Honeywagon Driver- John McEvoy
Music Supervisor- Paul Cullum
Negative Cutters- Gary Wallace & Robert Colley
Color & Processing- Allied Film & Video Service
Titles & Opticals- Cinema Research Corporation
Filmed With- Panavision Cameras & Lenses
Recorded In- Ultra-Stereo
Special Thanks To- Richard Garriot, Azul Florist
Deb Lewis, Elaine Laborde, Hoozie Kuhn
Dorothy Caldwell, Brian Smith, Dr. Larry Mann
W. Joe Hoppe, Jantur, Inc., Jim Berry
Dee Dee Davidson, Randy J. "Biscuit" Turner
Texas Showdown, Martinez Brothers Taxidermists
Lori Cartledge, Adam Bork, Austin Fitness Equipment
Frank Kozik, Chaparral Portable & Modular Building, Inc.
Sean McGowan, Susan Lince, Bill At Cut Rite Chainsaws
Sabrina At Action Safe & Lock, Alice, Bernice Basward
Gertrude Eschberger, Laverne Gutierrez, Charles Fulgham
Gaddy's, Jim Bentley, Ralph Portillo, Telecor Paging
Tiddle Caylor, Rafael Gayol, Debra Fischman, Jeff Smith
Michael Hall, Paul Drown, Steve Anderson, McBride's Inc.
Kevin Smith, Chris Arthur, Truman Van Dyke Company
Zahed Ali, Marilyn Knapp, Victor Duncan, Geoff Rabb
David Willie, Roy Kuhn, Bruce Newlin, Carl Williams
Pflugerville High School, Warren Jones, H.L. Weiss Family
Texas Film Commission, Gary Bond, Jane Scanlin
Austin State School, Bill Thompson, Tanya Chuoke, Bob Burns
Holly Adair, Ivan Bigley, Mary Judson, Betsy Henkel
Wink & Audrey Tyler, David Watkins, Sharon Duggan
Bobby & Lori Limbocker, Charles O. Grigson, Brandy Collins
Copyright 1994 Ultra Muchos, Inc. & River City Films, Inc.
In Association With Columbia/Tri-Star Pictures
All Rights Reserved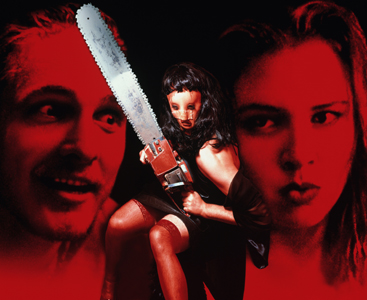 Back To The Lair Of Horror