Release: Friday, July 12, 2002
Company: Dimension Films
Length: 94 Minutes
Tagline: Evil Finds Its Way Home
Budget: $15 million
Domestic Box Office: $30.2 Million
Global Box Office: $37.6 million
Opening Weekend: $12.2 million
Sound Quality: DTS/Dolby Digital, Sony Dynamic
Film Location: Vancouver, British Columbia
Salt Lake City, Utah
Film Availability: VHS, DVD, BLU-RAY, BOX SET, DIGITAL
Soundtrack Availability: CD, DIGITAL



CORONER'S REPORT





1. FRANKLIN (Brent Chapman)- Beheaded with kitchen knife offscreen
2. WILLIE (Dan Joffre)- Throat slit with kitchen knife
3. LAURIE (Jamie Lee Curtis)- Knifed in back, falls to death from rooftop
4. CHARLEY (Brad Sihvon)- Throat impaled with camera tripod leg
5. BILL (Thomas Ian Nicholas)- Stabbed repeatedly, kitchen knife in head
6. DONNA (Daisy McCrackin)- Impaled on metal spike protruding from sewer exit
7. JEN (Katee Sackhoff)- Beheaded with kitchen knife
8. JIM (Luke Kirby)- Head crushed in Michael's bare hands
9. RUDY (Sean Patrick Thomas)- Pinned to door with three knives through chest
10. NORA (Tyra Banks)- Strangled with cord offscreen, found hung from ceiling

*NOTE: It was implied at the end that Michael kills the morgue attendant, but that death was unconfirmed. In addition, in an alternate cut of the film, some of the deaths were different. These included Willie (Dan Joffre), who was stabbed to death; Donna (Daisy McCrackin), who walked into her death; and Laurie (Jamie Lee Curtis), who fell to her death on the concrete instead of the woods. Also, Freddie (Busta Rhymes) did not survive originally, and was choked to death, the death of Nora (Tyra Banks) was shown on-screen, and a CSI agent was implied dead in an alternate ending, but that was also unconfirmed. Michael (Brad Loree), in a separate alternate ending, was axed in the face by Sara.

Film Total: 10
Series Total: 176



MICHAEL'S BATTLE SCARS





1. Crashes through door
2. Smacked with lamp
3. Electrocuted
4. Hung upside down in snare
5. Crashes through mirror
6. Smacked with lamp
7. Smacked with camera tripod
8. Cutting board to chest
9. Spice sprinkled into his eyes
10. Smacked with rolling pin
11. Loose board to head
12. Kicked twice in the head
13. Tackled
14. Kicked in chest
15. Kicked in head
16. Crashes through boarded-up window
17. Hung by electrical cable
18. Chainsaw to arm
19. Chainsaw to chest
20. Caught in explosion
21. Smacked with a stick
22. Electrocuted by Freddie
23. Electrocuted multiple times while tangled in wires
24. Burned

Film Total: 24
Series Total: 109



SOUNDS


LAURIE: "Hello, Michael..."
LAURIE: "I Knew You'd Come For Me Sooner Or Later..."
LAURIE: "Are You Afraid To Die, Michael???"
LAURIE: "I'll See You In Hell!!!"
SARA: "They're Not Putting Us In A House With Cameras In The Shower?"
ARON: "Don't Do It! That's The House Where It All Started..."
FREDDIE: "You Six Will Enter The Birthplace Of Evil In Its Purest Form..."
BILL: "Michael Myers Is Not Just A Guy Behind A Mask...He's A Legend"
DONNA: "Michael Embodies The Politics Of Violence Embedded In Pop Mythology"
RUDY: "Never Underestimate The Effect Of A Poor Diet"
SARA's 'Dangertainment' audition scream
FREDDIE: "Let The Dangertainment Begin!!!"
JEN: "You Are This Close To Getting Voted Off The Island"
JIM: "You Know, Donna, You Got Great Legs...What Time Do They Open?"
BILL: "One Flash And You Can Light Up A Thousand Computer Screens"
FREDDIE: "I Ain't Paying You To Be Michael Myers...I'M Playing Michael Myers!!!"
FREDDIE: "I Left The Back Door Unlocked For Your Ass..."
SARA: "Michael's Here!!! I Saw Him In The House!!!"
FREDDIE: "Trick Or Treat..."
FREDDIE: "Hey Mikey, Happy %@*!& Halloween!!!"

CAST AND CREW



LAURIE STRODE- JAMIE LEE CURTIS
MICHAEL MYERS- BRAD LOREE
YOUNG MICHAEL MYERS- GARY J. CLAYTON
FREDDIE HARRIS- BUSTA RHYMES
SARA MOYER- BIANCA KAJLICH
RUDY GRIMES- SEAN PATRICK THOMAS
DONNA CHANG- DAISY MCCRACKIN
JEN DANZIG- KATEE SACKHOFF
JIM MORGAN- LUKE KIRBY
BILL WOODLAKE- THOMAS IAN NICHOLAS
MYLES BARTON- RYAN MERRIMAN
NORA- TYRA BANKS
SCOTT- BILLY KAY
HAROLD- GUS LYNCH
NURSE WELLS- LORENA GALE
NURSE PHILLIPS- MARISA RUDIAK
FRANKLIN- BRENT CHAPMAN
WILLIE- DAN JOFFRE
ARON- HAIG SUTHERLAND
CHARLEY ALBANS- BRAD SIHVON
OFFICER- KELLY NIELSON
OFFICER- GARY TUNNICLIFFE
LETTER SWEATER- RYAN MCDONALD
TEEN GIRL #2- CHARISSE BAKER
FRENCH MAID- NATASSIA MALTHE
TEEN PARTY GUY- KYLE LABINE
PROFESSOR- RICK ROSENTHAL
BOB GREEN- DAVID LEWIS
FIREMAN- CHRIS EDWARDS
ORDERLY- MICHAEL MCCARTNEY
CORONER- ANANDA THORSON
FIREMAN- ROBERT MUSNICKI
NEWS REPORTER- TAMARA TAGGART
POLICE OFFICER #2- MICHAEL ARTHUR
ARRESTING OFFICER- ARTINE TONY BROWNE
BOYFRIEND- JASON MCKINNON
GIRLFRIEND- JAIDA HAY
KID- SONNY TASSER

Directed By- Rick Rosenthal
Story By- Larry Brand
Screenplay By- Larry Brand & Sean Hood
Based On Characters Created By-
John Carpenter & Debra Hill
Produced By- Paul Freeman
Executive Producer- Moustapha Akkad
Casting By- Ross Brown & Mary West
Robin Nassif, C.S.A. & Patrick Baca, C.S.A.
Costume Designer- Brad Gough
Visual Effects Supervisor- Jamison Goei
Music Supervisor- Jen Miller
Halloween Theme By- John Carpenter
Music By- Danny Lux
Edited By- Robert A. Ferretti, A.C.E.
Production Designer- Troy Hansen
Director Of Photography- David Geddes, C.S.C.
Co-Producer- Malek Akkad
Co-Executive Producers- Bob Weinstein, Harvey Weinstein
Louis Spiegler And H. Daniel Gross
Stunt Coordinator- Donna Keegan
Co-Stunt Coordinator- Brad Loree
Stunt Doubles- Simon Burnett, Janina Dall
Donald J. Hewitt, Donna Keegan
Bill Lawrence, Claire Webb
Executives In Charge Of Production-
Kevin Nyman, Jake Myers
Production Coordinator- Ralph Wimmer
First Assistant Coordinator- Andrea Sunderland
Production Accountant- M.K. Gleason
First Assistant Accountant- Carol Hocking
Payroll Assistant- Shannon Harron
Production Assistant- Allan J. Ross
Production Office Assistant- Jo Ann Mathies
Production Office Assistant- L.A.- Lina Akkad
Script Supervisor- Cheryl Miranda Moujabber
Film Editor- Mike Murphy
Assistant Editor- Asim Matin
Art Director- David MacLean
Art Department Coordinator- James Grace
Drafts Person- Neville Conway
Art Department Apprentice- Dianna Anderson
Graphic Artist- Carlos Bolbrugge
Storyboard Artist- Woody Welch
Assistant Costume Designer- Heidi Nutley
Truck Costumer- Courtney Andersen
Set Costumer- Anthea Odmen
Costumer- Laurel Morgan
Key Set Decorator- Johanna Mazur
Assistant Set Decorator- Leah Gejdos
Lead Dressers- Ken Sawatzky, Michelle Pitney
Set Decorator Buyers- Katharine Brand, Leah Weinberg
Set Dressers- David Turgeon, Denise Hignell
And Elke Brandstatter
On-Set Dresser- Scott Holburn
Key Make-Up- Leslie Graham, Diana Davison
First Assistant Make-Up- Kathy Howatt
Key Hairstylist- Catherine Graham
First Assistant Hair- Paula DeMille
Second Assistant Hair- Cleo Gagner
Mr. Rhymes' Hair- Dionne Webb
Ms. Banks' Hair/Make-Up- Lisa Mitchell
Special Make-Up Effects Created By- Gary Tunnicliffe
Tunnicliffe/Two Hours In The Dark, Inc.
Make-Up Effects Crew-
Mike Jay Regan, Claire-Jane Deacon, Snowy Highfield
Tom Floutz, Jeff Deist, Steve Lawrence, Mitch Coughlin
Props Master- Alexandra Cram
Assistant Props- Joao Cordeiro
Props Buyer/Builder- Dave Righton
Props Assistants- Michael Holm, Ocean Mussak
Locations Manager- Phil Kieran
Assistant Locations Manager- Kirk Smallman
Key Production Assistant- Phil Wong
Production Assistants-
Michelle Birch, Patrick Kirkland, Jamie Monk
Sue Horman, Geoff Smallman, Amber Tanner, David Williamson
Post Production Assistant- Jack Skeets Gleeson
Post Production Offices Provided By- Neo Art & Logic
Office Manager- Nawana Davis
Neo Controller- Simone De Camargo
Neo Assistant Accountants- Cristina Valenzuela, Frank Galline
Location Scouts- Serguei Bachlakoy, Dan Falkenberg
Transportation Coordinator- Will Park
Transportation Captain- Reese Alexander
Drivers- Jeremy Alexander, Paul Bloxham, Ian Fong
Peck Koonar, Darryl Litke, Billy McRobbie, Ian Montgomery
Mickey Sangha, Fraser Sutherland, John Swetlikde
Third Assistant Director- Daniel Mansfield
Assistant Director Trainee- Maryka Sennema
Assistant Director Production Assistant- Kevin Leeson
Cam/Steadicam Operator- Michael (ENL) Soos
First Assistant Camera- Stephen Maier
Second Assistant Camera- Caragh Hodge
Camera Trainee- Christopher Jaksa
B-Cam Operator- Keith Thompson
B-Cam First Assistant- Rob De Coste
B-Cam Second Assistant- Katie Weekley
Second Unit Director- Jessica Landaw
Playback Supervisor- Darin Robertson
Playback Coordinator- Max Torroba
Computer Playback- Gladys Tong
Stills Photographer- Kimberley French
Sound Mixer- Martin Fossum
Boom Operator- Tony Logan Poulsen
Sound Assistant- Sara Kohlman
Key Grip- Christopher Tate
Best Boy Grip- Trevor Martin
Rigging Grip- Steve Larsen
Dolly Grip- Chris Banting
Grips- Novia Hennan, Ron Lester
And John Stephenson
Gaffer- Blair MacDonald
Best Boy Electric- Jared Spencer
Generator Operator- Patrick Moore
Lamp Operators- Mathias Herndl, Jason Lexa
And Sandra Hardy
Rigging Crew- Dennis Jones, Torbin Doege
And Keith Brooks
Special Effects Coordinator- Kim Mortensen
Special Effects Best Boy- Cam Waldbauer
Special Effects Assistants- Nick Ciccone, James Vasblam
Construction Coordinator- Patrick Latarius
Construction Foreman- Kristan Hall
Lead Hands- Bob Englemark, Michael O'Sullivan, Chris Henn
Key Painter- Deborah Morriss
Lead Scenic Painter- Michael O'Sullivan
On-Set Carpenter- Mark Chinque
On-Set Painter- Todd Gogal
Head Greensman- John MacIntosh
On-Set Lead Greens- John Carr
Laurie Strode Stand-In- Patti Vieta
Michael Myers Stand-In- Robert Musnicki
Executive In Charge Of Casting- Katrina Wolfe
Vancouver Casting- Blair Law
L.A. Casting Assistant- Kendra Carter
Extras Casting- James Forsythe
Assistant To Paul Freeman- Rania Kamal
Assistant To Mr. Rosenthal- Maureen Prentice
Unit Publicist- Bill Vigars
Catering By- Focus On Foods
Chef- Paul Smail
Assistant Chef- Emily Van Der Sand
First Aid/Craft Service- Mike Thompson
Security Coordinator- Larry Sostad
Security Captain- Rob Currie
Security- Dominic Iacoviello
Executive In Charge Of Post Production- Linda Borgeson
Post Production Executive- Andrea Wertheim
Post Production Supervisor- Kirk Morri
Visual Effects- Neo Digital Imaging
Digital Animators- Sookie Park, Karl Fornander
Amalgamated Pixels, Inc.
Head Of Production- Derry Frost
Executive Producer- Michael J. Morreale
Visual Effects Coordinator- Phil "Dog" Palousek
Lead Animator- Jeremy Oddo
Lead Compositor- Michael Peccnia
Computercafe
Digital Effects Supervisor- David Ebner
Digital Effects Producer- Vicki Weimer
Executive Producer- Jeff Barnes
Digital Artists- Michael Bozulich, David Ebner
Akira Orikasa, Jeff Goldman, Ron Honn
Garbriel Vargas, Domenic DiGiorgio
Digital Dimension
Visual Effects Supervisor- Benoit "Ben" Girard
Visual Effects Producer- Jerome Morin
Digital Artists- James Coulter, Edmund Kozin, Justin Mitchell
Re-Recording- Deluxe, Toronto
Supervising Sound Editor- Trevor Jolly
Supervising Re-Recording Mixer- Daniel Pellerin
Re-Recording Mixers- Andrew Tay, Brad Thornton
Supervising Sound Editor-
Stephen Barten, Sound Dogs, Toronto
Sound Design Effects Editor- Mark Allen
Sound Effects Editors- Craig Henighan, Kevin Banks
Dialogue Editors- Trevor Jolly, Jill Purdy
Assistant Editor- Kate Cripps
ADR Editor- Trevor Jolly
Foley Mixers- Peter Persaud, Brent Roach
Foley Artist- Steve Baine
Foley Assistant- Gina Gyles
Theatre Operator- Brent MacLeod
Voice Casting- L.A. Mad Dogs
Los Angeles ADR Recorded At- Wilshire Stages
ADR Mixer- Eric Thompson, C.A.S.
ADR Recordist- Chris Navarro
Additional Los Angeles ADR Recorded At-
Sound Satisfaction, Burbank, California
ADR Recordist- Gary Coppola, C.A.S.
Vancouver ADR Recorded At- Post Modern Sound
ADR Mixer- David S. Horner
Music Editorial- Micoi Productions, Inc.
Supervising Music Editor- Michael Dittrick
Music Editor- Kevin Banks
Music Assistant- Mauricio Balvanera
Score Produced By- Danny Lux
Score Mixed By- Danny Lux & Matt Mariano
Assistant To The Composer- Matt Amriano
Executive In Charge Of Music- Randy Spendlove
Post Production Accounting- Prep Shoot Post
Shane Goddoff, Elizabeth Speckman
Legal Services By- Goodman's LLP
Insurance Provided By- AON/Ruben Winkler
Post Production Lab & Services By- Rainmaker Digital Pictures
High-Definition Video Services Provided By- Laser Pacific
Digital Film Services Provided By- Digital Film Works
Main Title Design By- Paige Cleveland
Digital Opticals/Caterist- Joaquin Pecheur, Adam S. Hawkey
Digital Imaging- Chris Dusendchon
Title Graphics- J. Kathryn Landhott
End Credits- Title House Digital
Negative Cutting- Viv Kim Negative Cutting, Inc.
Color Timer- Chris Regan
Combined Dialogue, Continuity & Spotting- On-Core Productions
Todd Rodowsky, Phil Rodowsky
The Producers Wish To Extend Thanks To The Following-
Mike Leahy, John Hadity, Rachel Levy, Whitney Wilson
Michael Marshall, Clark Henderson
Webcams Supplied By- Earthcam, Inc.
Brian Curry and Earthcam Staff
Joseph Nizza And Bill Shapp
Dragonfly Clothing, Performers
Wardrobe Provided By- American Eagle Outfitters
Filmed With- Panavision
Titles & Digital Opticals By- IO Film
Grip & Electricals Provided By- P.S.
Filmed With- Kodak Film
Color By- Deluxe
Diner's Guild Of Canada, ACFC, Dolby Digital Sound
DTS Sound, Sony Dynamic Digital Sound
A Nightfall Production
A Dimension Films Release
Copyright 2002 Miramax Film Corp.
All Rights Reserved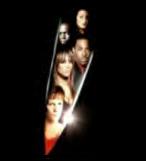 Back To The Lair Of Horror