DID YOU KNOW?



1. There were many titles considered for this movie, including 'Halloween: The Homecoming', but producers wanted a title that said Michael Myers is alive, so, in February 2002, the film was officially dubbed 'Halloween: Resurrection'.

2. The film was originally set for release on September 21, 2001, but producers at Dimension Films wanted the film to be stronger, so re-shoots took place from September to October 2001. The final release was ultimately July 12, 2002.

3. Whitney Ransick and 'Halloween 4' director Dwight Little each turned down the offer to direct the film.

4. Jacinda Barrett was originally offered the role of Sara, but turned it down.

5. The first trailer for Resurrection was shown on April 26, 2002, with New Line's 'Jason X'.

6. Jacinda Barrett was originally tabbed to play Sara, but she dropped out and was replaced by Bianca Kajlich.

7. Bianca's last name Kajlich is actually pronounced "Ky-Lick".

8. Bianca Kajlich was originally cast as Jen Danzig, but later switched to the role of Sara.

9. Katee Sackhoff was originally cast as Donna Chang, but later switched to Jen Danzig when Bianca Kajlich switched to the role of Sara.

10. The name Jen Danzig is a reference to Glenn Danzig, the singer and former Misfits leader who wrote and sung the songs 'Halloween' and 'Halloween II' before the original movie was released. The two songs have little to do with the movies since their lyrics do not even touch the main plot.

11. Jamie Lee Curtis was contractually obligated to do at least a 30-second cameo, but she liked the script so much that she increased her involvement in the opening scene.

12. Producers considered Danielle Harris, who played Jamie Lloyd in 'Halloween' 4 and 5, for a role in 'Halloween: Resurrection', but nothing ever came to fruition.

13. Michael Myers is not given credit for any of the murders that occur in 'Halloween' 4-6. A sanitarium resident even notes that Myers was not heard from for the twenty years between the events that occur in 'Halloween II' and 'Halloween H20'. This is most likely because the events of 'Halloween' 3-6 were ignored in H20, and the producers continued with that in 'Resurrection'.

14. Bianca Kajlich cannot scream and her screams had to be dubbed in post production.

15. Busta Rhymes got his nickname from Chuck D of The Public Enemy, who said he was like former Oklahoma halfback George 'Buster' Rhymes.

16. Bianca Kajlich's first acting job was in a commercial for 'Kragen Auto Parts'.

17. Bianca Kajlich is the long-time girlfriend of soccer star Landon Donovan.

18. Sean Patrick Thomas originally went to law school before turning to acting.

19. Thomas Ian Nicholas was born on the same day (July 10) as singer Jessica Simpson.

20. Thomas Ian Nicholas started a band called the 'T.I.N. Men'. Their album 'Something More' was released in 1999.

21. Tyra Banks does not drink alcohol and is the CEO of her own company, 'TYInc.'

22. Tyra Banks is the host of reality show, 'America's Next Top Model'.

23. Originally, the executives of Miramax wanted to continue the franchise by creating a whole new story of which didn't have anything to do with Michael Myers after the last film, in a similar manner to 'Halloween III: Season Of The Witch' (1982). However, poll results conducted throughout fan websites proved to the producers that fans wanted Michael Myers to return again.


Know any assorted facts that we don't have here? E-mail them to us at: lairofhorror@yahoo.com and you will get credit for them.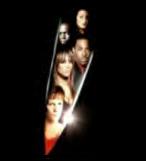 Back To Resurrection Page
Back To The Lair Of Horror