THE RATING



THE LAIR EXPERTS

Matt: The first time I saw this movie, I liked it. Now, it's pretty much unwatchable. I think I was just happy to see Michael on the big screen again, much like the initial reaction I had when 'Jason X' came out around the same time. This movie had potential and did contain some good elements of a 'Halloween' film. It was set in Haddonfield, Brad Loree was refreshingly scary as Michael (including the mask), and Jamie Lee Curtis made a respectable cameo performance.

The main thing that ruined this movie for me was the piss-poor acting of Busta Rhymes. It was so obvious that he did NOT take his role seriously. He was simply there cashing a check, a run-of-the-mill rapper thrown into the role to attract the teen audience (just like LL Cool J in 'H20'). It was apparent at times to be nothing more than a big joke to him, never more evident than when he actually fights Michael and starts his kung-fu tirade. If you replace Busta with a better-known and better-trained actor, this film would have gotten higher marks.

The supporting cast was actually decent, and included strong performances by Bianca Kajlich and Katee Sackhoff. The whole cameras-in-the-house and live Internet feed was edgy for its time, but now seems ridiculously outdated. Director Rick Rosenthal returns to the 'Halloween' director's chair for the first time since 'Halloween II', and he does an admiral job, just not as well as he did in his previous installment. Danny Lux delivers a refreshingly scary musical score after the symphonic debacle of John Ottman in 'H20', including a nice rendition of the main 'Halloween' theme. There was no real supporting music or soundtrack (thank god they removed Busta Rhymes' song from the credits in the final edit), but it didn't need any. The score was sufficient for the story being told.

Resurrection was 'Halloween' once again stuck in the middle of teen slasher rut of the late '90s/early millennium. And just think, there were originally rumors of 'Halloween 9', carrying on this storyline. 3 out of 10.

A.J.: In a day and age where horror sequels put to shame their predecessors, I really feel that Halloween: Resurrection earned its right to be called a Halloween film. The killings were classic and Michael actually looked like Michael. I am also relieved that they took time out to explain what actually happened at the end of H20 and not just pick up as if it never happened. Busta Rhymes' antics and jokes may have gone a little too far, but it was still good comic relief. 8 out of 10.


THE FANS

Want to add your review??? See below.


NOTE: These ratings are of the Lair experts. If you don't agree with us, then you don't know what you're talking about. If you would like your own review added to our fan section, e-mail us at: lairofhorror@yahoo.com and just maybe we will post it here.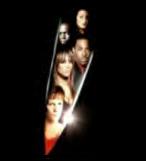 Back To Resurrection Page
Back To The Lair Of Horror