Release: Tuesday, October 11, 2011
Company: Dimension Films
Length: 75 Minutes
Tagline: The Return Of Pinhead
Budget: $350,000
Direct-To-Video Release
Sound Quality: Dolby Stereo
Film Dates: September- October 2010
Film Location: Los Angeles, California
Film Availability: DVD, BLU-RAY, DIGITAL
Soundtrack Availability: None



CORONER'S REPORT





1. MEXICAN GIRL (Adel Marie Ruiz)- Found dead in bathroom stall
2. NICO (Jay Gillespie)- Skinned alive by Cenobites, later returns & shot in chest
3. HOOKER (Sue Ann Pien)- Beat to death with puzzle box
4. PETER (Sebastien Roberts)- Face carved up with knife by Vagrant
5. ROSS (Steven Brand)- Shot in chest by Nico, later bleeds to death
6. STREET WALKER (Camelia Dee)- Killed offscreen
7. BABY (uncredited)- Killed offscreen
8. STEVEN (Nick Eversman)- Lamp to head, skinned offscreen, becomes Cenobite
9. KATE (Sanny Van Hatteren)- Throat ripped open with hooks and chains
10. SARAH (Devon Sorvari)- Ripped apart by hooks & chains, taken to hell

Film Total: 10
Series Total: 126



SOUNDS


PINHEAD: "We are the light in the darkness, paths to higher sensation..."
NICO: "This just in...there is no better buzz than a tequila buzz!"
STEVEN: "He said they would show us something beyond the limits..."
VAGRANT: "This will take you beyond the limits...to places you can't imagine..."
VAGRANT: "How can we taste the truly sweet without a little bit of the sour?"
NICO: "It's a puzzle...the prize is probably 2 free passes to the donkey show..."
STEVEN: "He didn't want to come back...he wanted to stay..."
STEVEN: "They want to experience your flesh..."
STEVEN: "Pain and pleasure...indivisible..."
EMMA: "It's like...it wants to open, but you have to want it as well..."
ROSS: "It seems to be important to a lot of people...something's just not right..."
PETER: "Something's not right...none of this adds up...we're just sitting here..."
NICO: "It's not the shirt off your back that I want..."
PINHEAD: "Sensation will be delight compared to agony awaits at our hands..."
PINHEAD: "Debt is outstanding...and we seek payment..."

CAST AND CREW



PINHEAD- STEPHAN SMITH COLLINS
NICO/PSEUDO- JAY GILLESPIE
STEVEN CRAVEN- NICK EVERSMAN
EMMA CRAVEN- TRACEY FAIRAWAY
ROSS CRAVEN- STEVEN BRAND
SARAH CRAVEN- DEVON SORVARI
PETER BRADLEY- SEBASTIEN ROBERTS
KATE BRADLEY- SANNY VAN HETEREN
FEMALE CENOBITE- JOLENE ANDERSEN
FACELESS STEVEN/VOICE OF PINHEAD- FRED TATASCIORE
MEXICAN GIRL- ADEL MARIE RUIZ
HOOKER/SKINNED FACE GIRL- SUE ANN PIEN
VAGRANT- DANIEL BURAN
STREET WALKER- CAMELIA DEE

Directed By- Victor Garcia
Story & Screenplay By- Gary J. Tunnicliffe
Based On Characters Created By- Clive Barker
Produced By- Aaron Ockman & Joel Soisson
Director Of Photography- David A. Armstrong
Line Producer- Kimberly L. Ogletree
Co-Producer- Victor Garcia
Production Designer- Ermanno Di Febo-Orsini
Editor- Matthew Rundell
Costume Designer- Darryle Johnson
Music By- Frederik Wiedmann
Casting By- Monika Mikkelsen
Unit Production Manager- Kimberly L. Ogletree
First Assistant Director- Alexander Yurchikov
Second Assistant Director- Ben Bywater
Make-Up Effects Designer/Consultant- Gary J. Tunnicliffe
Make-Up Effects Designer- Mike Regan
Two Hours In The Dark Inc.
Make-Up Effects Crew- Bryan Blair, Blake Bolger
Jamie Grove, Mike Measimer & Richard Redlefsen
"A" Camera Operator- Joshua Harrison
"A" Camera First Assistants- Richard E. Garcia & Brad Grimmett
"B" Camera First Assistant- Jef Hall
"B" Camera Second Assistant- Benjamin Steeples
Loader- Soojin Chung
Digital Script Supervisors- Nila Neukem & Tracy L. Moody
Sound Mixer- Mr. Woody Stubblefield
Boom Operator- Joe 'The Thrill' McGill
Second Boom Operator- Reggie Dunn
Chief Lighting Technician- Paul Goldhammer
Assistant Chief Lighting Technician- Jeff McGrath
Electricians- Brice Bradley, Bob Good, Karron Johnson
Guy Maturo, John P. McCormack, Chris Evan Tamuty
Robby Terry & Darryl Walthall
First Company Grip- Greg Flores
Ricky Diaz & Gregg Thompson
Second Company Grip- Michael Arzaga
Grips- William Allegar, Dejon Ellis Jr.
Charles R. McKinney & Daniel Roberts
Production Coordinator- Deborah Velarde
Producers Assistant- Dale A. Stelly
Key Set Production Assistant- Denis Yurchikov
Production Assistants- N'Zinga C. Fielder, Shema G.M. Kalisa
John Tay Hawes, Riley Brooks Jr., Delia St. Pierre
Michael Ross, Betty J. Ray, Lauren Royal McDonald
Emma Madeline Ross, Raphal Di Febo Orsini
Jennifer Quinteros & Linda Phan
Production Accountant- Susan Royal McDonald
First Assistant Accountant- Stephan Rothman
Extras Casting- Rich King Casting
Property Master- Bonnie Temple
Set Decorator- Marina Starec
Lead Person- Jason Bartley
On-Set Dresser- Gene Warren III
Department Head Make-Up- Steve Costanza
Department Head Hairstylist- Mimi Jafari
Cast Security Provided By- James Hadley
Additional Photography-
First Assistant Director- John T. Melick
Second Assistant Director- Sage Asteak
"A" Camera Operators- Georgia Packard & Richard E. Garcia
"A" Camera First Assistant- Richard E. Garcia
Script Supervisor- Arthur Dix
Sound Mixer- Gary W. Day
Boom Operator- Jim Ridgley
Electricians- Jeff Parkhurst, Chris Evan Tamuty & Fred Calderon
First Company Grip- Gregg Thompson
Second Company Grip- Michael Arzaga
Grips- Taylor Vohs, Frank A. Bello & Tom Petrushevich
Production Supervisor- Charisse Reneau
Office Production Assistant- N'Zinga C. Fielder
Production Assistants- Lauren Royal McDonald
Dale A. Stelly, Stephen Woodruff, Delia St. Pierre
Vera Kaprielian & Ryan Murray
Property Master- Bonnie Temple
Set Decorator- Marina Starec
Lead Person- Jason Bartley
Key Costumer- Cheryl Lanning
Make-Up Artist- Viola Rock
Department Head Hairstylist- Mimi Jafari
Post Production-
Additional Editing By- Philip Mangano
Assistant Editor- Laura Creecy
Post Production Assistant- N'Zinga C. Fielder
Audio Post Sound Services By- Artistry In Sound
Supervising Sound Editor- Kenneth L. Johnson
Re-Recording Mixer- Kenneth L. Johnson
Sound Designer- Mark Hailstone
Dialogue/ADR Editor- David Grant
Orchestrations- Hyesu Yang
Solo Viola- Jules Pusch
Solo Vocals- Kate Conklin & Katrin Wiedmann
Visual Effects By- Glowgun
Visual Effects Supervisor- Chad Goei
Compositors- Chad Goei & James Pina
Roto/Paint- James Pina
Production Assistant- Mike Laza
Visual Effects By- Gene Warren III
Post Production Services Provided By- IO Film
Colorist- A.J. Mulraney
DI Post Supervisor- Gregory Maratea
Account Executive- Richard Jordan
Camera Dollies By- Chapman/Leonard Studio Equipment, Inc.
Locations Provided By- TO Film
For Dimension Films-
Executives In Charge Of Production & Casting-
Matthew Stein & Matthew Signer
Executives In Charge Of Business & Legal Affairs-
Andrew Kramer & Jeff Hynick
Executive In Charge Of Physical Production- Tim Clawson
Executives In Charge Of Post Production-
Amber Taylor & Matthew Landon
Executive In Charge Of Music- Richard Glasser
Special Thanks To- Screen Actors Guild, Melissa Ockman
Sean Keller, Jim Agnew, C.J. Jones, Alisa Adona
Thor Wixom, The Hyneks & Bruce 'Hollywood' Damavandi
Copyright 2011 The Weinstein Company, LLC.
All Rights Reserved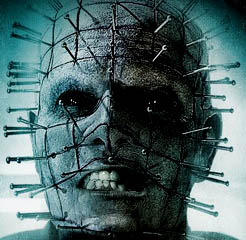 Back To The Lair Of Horror