DID YOU KNOW?



1. Ad copy for the DVD and Blu-ray releases hailed the film as coming "from the mind of Clive Barker". Barker, who has had little to no involvement with the franchise following 'Hellbound: Hellraiser II' (1988), posted a profanity-laden message on his Twitter feed in response, calling the film "no child of mine."

2. This was the first 'Hellraiser' movie without Doug Bradley as Pinhead. He was approached to reprise the role, but became hesitant when told that there would be no second draft of the script, which he believed was neither good nor bad, just "not finished." Bradley ultimately declined after being told that his salary from previous films would be, in his words, cut down to "the price of a fridge."

3. The film was rushed into production after Dimension Films realized that a contractual stipulation meant they stood to lose the rights to the 'Hellraiser' franchise if they did not produce a sequel prior to 2012. Consequently, the entire production time was roughly three weeks, including an eleven-day shooting schedule.

5. The names of the two primary families- Craven and Bradley- are references to horror genre figures Wes Craven (creator of the 'A Nightmare On Elm Street' series) and Doug Bradley, who played Pinhead in the previous eight 'Hellraiser' films.


Know any assorted facts that we don't have here? E-mail them to us at: lairofhorror@yahoo.com and you will get credit for them.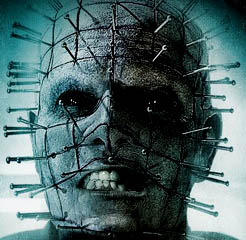 Back To Revelations Page
Back To The Lair Of Horror