Release: Friday, October 15, 2021
Company: Blumhouse Productions
Length: 105 Minutes
Tagline: Evil Dies Tonight
Budget: $20 million
Domestic Box Office: $92.0 Million
Global Box Office: $131.6 Million
Opening Weekend: $49.4 Million
Sound Quality: DTS/Dolby Digital/Dolby Atmos
Film Dates: September 16- November 3, 2019
Film Location: Wilmington, North Carolina
Film Availability: DVD, BLU-RAY, 4K UHD, DIGITAL
Soundtrack Availability: CD, VINYL, DIGITAL
Novelization: 2021
E-Book: 2021
Audio Book: 2021



CORONER'S REPORT





1. OFFICER MCCABE (Jim Cummings)- Strangled with rope, accidentally shot by Hawkins in flashback
2. FIREFIGHTER #1 (uncredited)- Falls thru floor, kicked in chest, halligan to face
3. FIREFIGHTER #2 (uncredited)- Pulled into basement, killed offscreen
4. FIREFIGHTER #3 (uncredited)- Impaled thru helmet & face with halligan
5. FIREFIGHTER #4 (uncredited)- Slashed in chest with halligan
6. FIREFIGHTER #5 (uncredited)- Impaled through helmet & head with halligan
7. FIREFIGHTER #6 (uncredited)- Impaled thru chest with halligan, lifted off ground and tossed aside
8. FIREFIGHTER #7 (uncredited)- Circular saw to face
9. FIREFIGHTER #8 (uncredited)- Killed offscreen, later found dead
10. FIREFIGHTER #9 (uncredited)- Killed offscreen, later found with axe in chest
11. FIREFIGHTER #10 (uncredited)- Killed offscreen, later found dead
12. FIREFIGHTER #11 (uncredited)- Killed offscreen
13. PHIL (Lenny Clarke)- Face cut by flying window shards, thrown to ground, arm broken, knifed to death
14. DENNIS (J. Gaven Wilde)- Beheaded offscreen
15. MARION (Nancy Stephens)- Knifed in chest 4 times, head bashed against steering wheel, skull crushed
16. MARCUS (Michael Smallwood)- Elbowed in jaw, knifed in eye
17. VANESSA (Carmela McNeal)- Accidentally shoots herself when Michael kicks car door into her
18. BIG JOHN (Scott MacArthur)- Knifed in armpit, eyes gouged out, carving knife to chest
19. LITTLE JOHN (Michael McDonald)- Killed offscreen, later found with paring knife in neck
20. TIVOLI (Ross Bacon)- Leaps to death from sixth floor hospital window after being chased by mob
21. LONNIE (Robert Longstreet)- Killed offscreen, later found hanging from attic access door
22. CAMERON (Dylan Arnold)- Knifed twice in stomach, arm stomped and broken, head bashed twice, bent in half over banniser railing, bashed 6 times across it, neck snapped
23. BRACKETT (Charles Cyphers)- Throat slashed with butcher knife
24. MOB MAN #1 (uncredited)- Knifed in throat
25. MOB MAN #2 (uncredited)- Slashed with butcher knife
26. MOB MAN #3 (uncredited)- Knifed in head
27. MOB MAN #4 (uncredited)- Throat slashed with butcher knife
28. MOB MAN #5 (uncredited)- Slashed with butcher knife
29. MOB MAN #6 (uncredited)- Knifed in chest
30. MOB WOMAN #1 (uncredited)- Butcher knife to face
31. MOB MAN #7 (uncredited)- Butcher knife through forearm
32. MOB MAN #8 (uncredited)- Chest slashed with butcher knife
33. MOB WOMAN #2 (uncredited)- Butcher knife to back
34. MOB MAN #9 (uncredited)- Chest slashed with butcher knife
35. TOMMY (Anthony Michael Hall)- Knifed in stomach, beat with baseball bat, impaled with broken piece of bat
36. KAREN (Judy Greer)- Stabbed to death with butcher knife

*NOTE: In the novelization, the firefighters had names and backstories, and their deaths were more elaborate than what was shown in the film. Later, while discussing their plans at the hospital, Tommy (Anthony Michael Hall) revealed to Lonnie (Robert Longstreet) that an officer told him there were a total of 11 first responders killed at Laurie's compound. In addition, Sheriff Barker (Omar Dorsey) found those bodies and other body parts strewn across Laurie's compound, and tripped over one that no longer had a face.

Film Total: 36
Series Total: 211



MICHAEL'S BATTLE SCARS





1. Punched in ribs twice
2. Sprayed with fire hose
3. Strangled with stethoscope
4. Bashed twice by a pillowcase full of rocks
5. Clubbed in leg (flashback)
6. Clubbed in head twice (flashback)
7. Knifed three times by Allyson
8. Pitchforked in back by Karen
9. Head stomped by Karen
10. Hit twice with pipe wrench
11. Clubbed
12. Bashed with 2 X 4
13. Shot in chest
14. Bashed in chest with 2 X 4
15. Shot five times
16. Bashed twice with 2 X 4
17. Clubbed
18. Hit with shovel
19. Bashed with 2 X 4
20. Clubbed twice
21. Bashed with baseball bat
22. Kicked in head
23. Bashed in back with baseball bat
24. Knifed in neck by Karen
25. Head slammed into cabinet door (novel)
26. Punched in face (novel)

Film Total: 26
Series Total: 135



SOUNDS


TRICK-OR-TREATER: "Lonnie, Lonnie, weird and scrawny..."
TRICK-OR-TREATER: "It's Halloween...everyone's wearing a mask..."
DR. LOOMIS: "Did Michael kill? Did Michael kill again?!"
TOMMY: "It's Halloween night in Haddonfield...when terror is supposed to be fun"
LAURIE: "Let it burn!!!"
KAREN: "He'll always be with us...even if we can't see him..."
PHIL: "There's a big mother in our bathroom, and he's wearing a monster mask"
TOMMY: "I'm gonna swing old Huckleberry here, say night night...night night..."
ALLYSON: "Michael's haunted this town for 40 years...tonight we hunt him down"
TOMMY: "This man is a threat...and we need to stop him tonight!"
CHRISTY: "There's a creepy man in a mask & he keeps trying to play hide & seek"
MARION: "Hey Michael...this is for Dr. Loomis!"
TOMMY: "Evil dies tonight!!!"
LAURIE: "Let him come for me...let him take my head as I take his..."
LITTLE JOHN: "You've come home..."
LAURIE: "Michael's masterpiece...he created this chaos..."
HAWKINS: "There is nothing inside that man but pure evil..."
LAURIE: "Every time somebody's afraid, the boogeyman wins..."
BRACKETT: "Now he's turning us into monsters..."
LONNIE: "He creeps...he kills...he goes home..."
KAREN: "I'm an innocent woman, just like your sister was..."
BRACKETT: "It's Halloween...everyone's entitled to one good scare..."
LAURIE: "The more he kills, the more he transcends into something else..."
LAURIE: "He is the essence of evil..."
LAURIE (extended version): "I'm coming for you, Michael..."

CAST AND CREW



LAURIE STRODE- JAMIE LEE CURTIS
KAREN- JUDY GREER
ALLYSON- ANDI MATICHAK
THE SHAPE- JAMES JUDE COURTNEY
THE SHAPE- NICK CASTLE
THE SHAPE (1978)- AIRON ARMSTRONG
YOUNG MICHAEL MYERS- CHRISTIAN MICHAEL PATES
OFFICER HAWKINS- WILL PATTON
YOUNG HAWKINS- THOMAS MANN
PETE MCCABE- JIM CUMMINGS
CAMERON ELAM- DYLAN ARNOLD
LONNIE ELAM- ROBERT LONGSTREET
YOUNG LONNIE ELAM- TRISTIAN EGGERLING
TOMMY DOYLE- ANTHONY MICHAEL HALL
LEIGH BRACKETT- CHARLES CYPHERS
BIG JOHN- SCOTT MACARTHUR
LITTLE JOHN- MICHAEL MCDONALD
LANCE TIVOLI- ROSS BACON
LINDSEY WALLACE- KYLE RICHARDS
MARION CHAMBERS- NANCY STEPHENS
SONDRA- DIVA TYLER
PHIL- LENNY CLARKE
BRIAN THE BARTENDER- BRIAN MAYS
MARCUS WILSON- MICHAEL SMALLWOOD
VANESSA WILSON- CARMELA MCNEAL
SHERIFF BARKER- OMAR DORSEY
CONCERNED BROTHER- DAMIEN LEE
CHRISTY- SALEM COLLINS
MINDY- GISELLE WITT
DENNIS- J. GAVEN WILDE
DR. SAMUEL LOOMIS- TOM JONES JR.
DR. SAMUEL LOOMIS (VOICE)- COLIN MAHAN
LAURIE'S EMT- TRENELL MOORING
LAURIE'S EMT- TROY RUDESEAL
DEPUTY GRAHAM- BRIAN F. DURKIN
SINGING TRIPLET- ANDREA LEVESQUE
SINGING TRIPLET- ARIANNA LEVESQUE
SINGING TRIPLET- ATHENA LEVESQUE
EYEWITNESS- BETH FELICE
HEAD SURGEON- MARK VERSNICK
HYSTERICAL WOMAN- JENNIFER TRUDRUNG
OSCAR- DREW SCHEID
OSCAR'S MOM- HOLLI SAPERSTEIN
NEWS REPORTER- JONATHAN BRUCE
VENTRILOQUIST- MIKE DUPREE
HEARTBROKEN WOMAN- NAOMI ANSANO
HEARTBROKEN WOMAN'S ORDERLY- KELVIN HARGROVE
MORGUE DOCTOR- NICHOLAS PRYOR
MOB DOCTOR- JAMES NORTHRUP
HELPFUL NEIGHBOR- ELAINE NALEE
BAR VOICE (VOICE)- STEPHEN FOERTSCH
BAR VOICE (VOICE)- TATIYANA HILL
BAR VOICE (VOICE)- MICHAEL MERCALDI
HAWKINS' DOCTOR- SALEM HADEED-MURPHY
HAWKINS' DOCTOR- SHAYLA BAGIR
TRICK-OR-TREATER (1978)- SHANE DONOVAN LEWIS
TRICK-OR-TREATER (1978)- JESSICA ARDEN NAPIER
TRICK-OR-TREATER (1978)- ELLA DORSCH
DEPUTY SULLIVAN- RYAN LEWIS
OFFICER TOBIAS- JACOB KEOHANE
OFFICER RICHARDS- CHARLIE BENTON
DESK CLERK- WILLIE RAYSOR
OP NURSE- LAUREN WILLIAMS
ONLOOKER- ANGELA EMERSON
ONLOOKER- DREW BRODERICK
ONLOOKER- NI'AMONI BAGLEY
LAURIE'S NURSE- JASON GARAY
ALLYSON'S EMT- CRAIG NEWKIRK
HAWKINS' EMT- AARON ASHLOCK
JULIAN- JIBRAIL NANTAMBU
LYNDA- P.J. SOLES
BOB- BOB ODENKIRK
HOSPITAL MOB- NICK ANDREWS
HOSPITAL MOB- DILLON BELISLE
HOSPITAL MOB- SOPHIA CALLISTO
HOSPITAL MOB- CHRIS EMRICH
HOSPITAL MOB- CALEB WAYNE GLOVER
HOSPITAL MOB- ELISKA HAHN
HOSPITAL MOB- ISIAH JENKINS
HOSPITAL MOB- CYNTHIA MORRIS
HOSPITAL MOB- STEVE TORCHIO
HOSPITAL MOB- MARK E. WALTERS
HOSPITAL MOB- BRYAN MATTHEW WARD
HOSPITAL MOB- MICHAEL JOHN WORKMAN
HOSPITAL VISITOR/MOB- KIMBERLY ANN LOVITT
HOSPITAL CIVILIAN- ROBERT ASHMORE
HOSPITAL CIVILIAN- SARA ELIZABETH EZZELL
HOSPITAL CIVILIAN- BENNETT TARR
HOSPITAL VISITOR- LLUVIA BERMUDEZ
HOSPITAL ORDERLY- RON BLAKE
HOSPITAL PATIENT- RUSTY BURROW
HOSPITAL PATIENT- ZACH CATANZARETI
HOSPITAL PATIENT- JOE CRANFORD
HOSPITAL PATIENT- KEELEY KOLLMANN
HOSPITAL PATIENT- BRAXTON SMITH PATTERSON
HOSPITAL PATIENT- VERONICA RUSSELL
HOSPITAL SECURITY GUARD- JOHN C. VALENTE
ORDERLY- BILLY CROWE
PATIENT/RIOTER- LATESHA HINES
CIVILIAN- LETRELL SIMS
NEIGHBOR- ALEKS ALIFIRENKO JR.
NEIGHBOR- OMAR AZIMI
NEIGHBOR/HOSPITAL MOB- DALTON JOHNSTON
SHERIFF DEPUTY- KEITH D. DOOLEY
POLICE DEPUTY- ROBERT FORTUNATO
POLICE DEPUTY- TESS LEAGUE
POLICE DEPUTY- NIKO EL SANTO ZAVERO
POLICE OFFICER (1978)- MARC BELLINGER
POLICE OFFICER- ANDY BETHEA
POLICE OFFICER- KADROLSHA ONA CAROLE
POLICE OFFICER- WILLIE TYRONE FERGUSON
POLICE OFFICER- BRANDON PARKER
POLICE OFFICER- DARRELL RACKLEY
POLICE OFFICER- SCOTT RAPP
DR. RANBIR SARTAIN- HALUK BILGINER
ANNIE (ARCHIVE)- NANCY LOOMIS KYES
MICHAEL MYERS (ARCHIVE)- TONY MORAN
COWBOY IN BAR- SYLVESTER ALLEN JR.
TIVOLIS- WALT GRYCZAN
TOM F.F. BENTLEY- ROBERT LEE HARVEY
TANYA JACOBSON- TANYA JACOBSON
WITNESS- ARTHUR E. GIBSON JR.
EMT- ROBERT BESS
EMT- KRIS GOMEZ
PARAMEDIC- CHRIS T.C. EDGE
PARAMEDIC- MICHAEL JOE YOUNG
EMT/PARAMEDIC- DARIN FERRARO
EMT/PARAMEDIC- CHRIS HOLLOWAY
EMT/PARAMEDIC- RON MARINO
EMT/PARAMEDIC- DAVID PASCUA
FIREMAN SAMSUNG- G. PETER KING
MOB- MICHELLE HUDDLESTON
MOB- JUSTIN OAKLEY
PROTESTER- ANGELO OTCHY
INJURED HUSBAND- DAVID A. JACKSON
BARTENDER'S WIFE/TOMMY'S POSSE- MIMI MARQUIS
BAR PATRON- A.J. TAYLOR
BILLIARDS GUY- MATTHEW WARZEL
SCARECROW- STEPHANIE MCINTYRE
TRICK-OR-TREAT CLOWN- RACHEL M. SHARP
TRICK-OR-TREAT BALLOON KID- RYAN P. SHARP

Directed By- David Gordon Green
Written By- Scott Teems, Danny McBride
And David Gordon Green
Produced By- Malek Akkad, P.G.A.
Jason Blum & Bill Block
Co-Producers- Sean Gowrie, Rick Osako
Ryan Turek & Atilla Salih Yucer
Executive Producers- John Carpenter, Jamie Lee Curtis
Executive Producers- Jeanette Volturno, Couper Samuelson
Executive Producers- Danny McBride, David Gordon Green
Executive Producer- Ryan Freimann
Executive Producers- Bob Osher, Andrew Golov
Based On Characters Created By-
John Carpenter & Debra Hill
Casting By- Terri Taylor, C.S.A.
Casting By- Sarah Domeier Lindo, C.S.A.
Make-Up Effects Designer- Christopher Nelson
Music Supervisor- DeVoe Yates
Music By- John Carpenter, Cody Carpenter
And Daniel Davies
Costume Designer- Emily Gunshor
Edited By- Tim Alverson, A.C.E.
Production Designer- Richard A. Wright
Director Of Photography- Michael Simmonds
Unit Production Manager- Rick Osaka
Unit Production Manager- Sean M. Gowrie
First Assistant Director- Atilla Salih Yucer
Second Assistant Director- Kamen Velkovsky
Associate Producer- S. Scott Clackum
Associate Producer- Laura Altmann
Stunt Coordinator- Airon Armstrong
Stunts-
Ashley Rae Trisler, Rachel Hoffpauir, Lydia Hand
Douglas Tait, Ben Rezendes, Harry Corrigan
Aaron Vexler, Jeffrey Gibson, Sonja A. Wajih
Becca GT, David Shumbris, Niahlah Hope
Brandon Smith, Dino Muccio, Greg Harvey
Miles Brew, Solomon Harvey, Patrick M. Walsh Jr.
Dean Lyons, Anthony Mecca, Stephen Izzi
John Mason, Robert L. Harvey, Dan Dargan Carter
Roberto Gutierrez, Evan Dane Taylor, Mike Burke
Hannah Scott, Ashley Pynn, Jared Bruke
Jake Eavey, George Colucci, Charley Brucato
Deborah Jay Roestenberg, Noah Schultz, Alexa Marcigliano
Stunt Riggers- Bryce Burke
Shane Geraghty & Scott Burik
Utility Stunts- Matt Triplett, Josiah Nolan
Peter King, Abigail Edwards, Stefanie Flores
Wendy Gutierrez, Samantha MacIvor, Benjamin Harris
Leo Kei Angelos, Peter Epstein
Stunt Fire Safety- Robbie Smith
Crew-
Production Supervisor- Laura Altmann
Art Director- Elliot Glick
Assistant Art Directors- Jake Kuykendall
Sean White & Gary Naylor
Art Department Coordinator- Barbara Efthymiou Harris
Storyboard Artist- Warren Drummond
Fear Consultant- Onur Tukel
Set Designers- James Tocci, Caroline Quinn
Set Decorator- Matthew Sullivan
Leadman- Adam Cameron
Buyer- Rachel Wilkin
On-Set Dresser- Brody Docar
Set Decorator Assistant- Lydia King
Set Decorator Graphic Artist- Tamra Scott
Swing Gang- Scott Blackmon, Michael Marcelli
Freddie Phelps, Chester Lee Henderson Jr.
Joseph R. McGuire Jr., Christopher Logan Weigele
Propmaster- Mick Flowers
Assistant Propmasters- Cindy Mah
Melissa Wooten & Greg Messer
Armourer/Props Assistant- Todd A. Hergott
Props Assistant- Aimee Sullivan
'A' Camera Operator- Paul Daley
'A' Camera First Assistant- Justin Simpson
'A' Camera Second Assistant- Emily Combs
'B' Camera Operator/Steadicam- John C. Lehman
'B' Camera First Assistant- Alan Aldridge
'B' Camera Second Assistant- Seth Lewis
'C' Camera Operator- Joseph C. D'Allesandro
'C' Camera First Assistant- Dan Jones
'C' Camera Second Assistant- Nicholas Cole Brown
Digital Imaging Technicians- Andy Bader & Jason Johnson
Digital Utility- Christopher 'Kit' Marlowe
Production Sound Mixer- Christof Gebert
Audio Playback/Additional Sound Mixer- Elanor Rimassa
Boom Operators- Joel Reidy, C. Douglas Cameron
Cecilia Kierstead & Joshua Stowe
Sound Utility- J. Collin Priddy-Barnum
Chief Lighting Technician- Stephen Thompson
Assistant Chief Lighting Technician- Neil Orchard
Board Operator- Mathew Axel Larsen
Lighting Technicians- Kyle Perritt, Kevin Grieve
Mark Vogel, Billy B. Hendricks
Will Sredzienski & Jacob Clegg
Rigging Chief Lighting Technician- Matthew C. Brookman
Assistant Rigging Chief Lighting Technician- Sarah J. Kibby
Dimmer Technician- Benjamin Baggott
Rigging Lighting Technicians- Anthony Riggi, Scott Surgenor
Timothy Coderre, Zachary Gowdy, Jack Templer
S. Mark Mims & Albert 'Daniel' Waller
Key Grip- Lee Donaldson
Best Boy Grip- W. Dave Justice
'A' Dolly Grip- Philip Dann
'B' Dolly Grip- Peter Wagner
Company Grips- Colin Dennis, Patrick Hayden
David Toothman, Jimmy DiGiandomenico
Brandon Long, Ritchie Nannini
Key Rigging Grip- Geoff Herbert
Best Boy Rigging Grip- Brian Knox
Rigging Grips- Chris McFeely, Adrienne Brown
Harry Palmer, Cheyenne Ball, Jay Coyle
Jeremy Lee, Clifford McLeod
Steven Skinner & Hal McFeely III
Special Effects Coordinator- Heath Hood
Special Effects On-Set Foreman- David A. Poole
Special Effects Foreman- Frankie Addington
Special Effects Technicians- Billy N. Daniel
Chris Sciacca, Ryan Daly & Rob Rieker
Video Assist/24 Frame Playback- Tony Jenzano III
Video Assist/24 Frame Playback- Cameron Mendel
Assistant Costume Designer- Robbie McKeithan
Costume Supervisor- Jane V. Beck
Key Costumer- Alex Dawson
Set Costumers- Brooke Clegg, Dalia Dalili
Dana Hawley, Matt Meeker & Jamie Moore
Ager/Dyer- April J. Brown-Traquina
Seamstress- Alice Blake Powell
Costume Coordinator- Adrienne Olson
Department Head Make-Up- Sandra Orsolyak-Allen
Key Make-Up Artist- Devin Morales
Make-Up Artists- Jennifer Chavez
Jennifer McCollom & Cece Verardi
Department Head Hair- Patricia McAlhany Glasser
Key Hairstylist- Bryan David Moss
Hairstylists- Carrie Messina
Gina Baran & Elisa Acevedo
Key Make-Up Effects- Mark James Ross
Make-Up Effects Assistant- Rachel Bongard
Make-Up Effects Production Assistant- Lisa Duvall
Prosthetics Created By- Vincent Van Dyke Effects
Effects Make-Up Coordinator- Vincent Van Dyke
Lead Sculptor/Painter- Daniele Tirinnanzi
Mold Shop Lead/Supervisor- Carl Lyon
Mold Maker- Stephen Imhoff
Mold Maker & Fabricator- Gwen Ramsey
Dental Work & Prosthetic Casting Lead- Jason James
Silicone Prosthetic Casting Lead- Will Thornton
Silicone Prosthetic Casting- Tricia Heal
Lab Technician- Steve Winsett
Silicone Seamer- Tony Matijevich
Hair Department Lead- Sasha Camacho Van Dyke
Hair Technicians- Megan Presta
Anneliese Boles & Sue Laprelle
Studio Coordinator- Brian Walsh
Production Coordinator- Stephanie Ford
Operations Foreman- Cody Wilkins
Shipping/Lab Technician- Nicholas Pugliese
Studio Manager- Richard Courte
Bookkeeper- Kim Sparks
Script Supervisor- Ronit Ravich-Boss
Clearance Coordinator- Tara Larsen
Script Clearances By- Carolyn Plumb
Location Manager- Kale Murphy
Key Assistant Location Manager- Mateo Arnold
Assistant Location Manager- David Grant
Locations Coordinator- Mary J. Cocuzza
Location Scouts- Joseph R. Packheiser & Ryan Burns
Locations Assistant- Jacob Dean Turner
Production Coordinator- Jason Salzman
Assistant Production Coordinator- Stephanie Louie
Travel Coordinator- Madison Lacerte
Production Accountant- Justin Carville
First Assistant Accountant- Andy Rheaume
Second Assistant Accountant- Sydney Shore
Payroll Accountants- Rachel Quinn & Edward Poveda
Accounts Payable Clerk- Nick Coutros
Payroll Clerk- Charles Thompson Jr.
Second Second Assistant Director- Teddy Gibbons
Additional Second Assistant Director- Justin Dybowski
Additional Second Assistant Director- Phil Yarbor
Casting Associate- Ally Conover
Casting Assistant- Lilly Tyson
North Carolina Casting- John Williams & Karmen Leech
North Carolina Casting Associate- Dino Maglaris
Extras Casting Provided By- Tona B. Dahlquist
Extras Casting Assistant- T. Ryan Hill
Still Photographer- Ryan Green
Assistant To Mr. Green- Emily Downey
Assistant To Ms. Curtis- Russell Goldman
Key Set Production Assistant- Kaya Ozan Sorak
Base Camp Production Assistant- Kyndra Palinkas
Set Production Assistants- Olivia Hawley, Riley O'Dell
Cody Mark Hanna, Tess League & Stephanie Lewis
Office Production Assistants- Kimberly Bertrand & Faith Kim
Art Production Assistant- Lauren Martin
Costume Production Assistants- Caitlin Rhyne & Chloe Pacheco
Stand-Ins- Braden Bunch, Bennett Todd, Kelly Borgnis
Zoe Pineheiro & Dean Nikodemski
Construction Coordinator- Tom Jones Jr.
General Foreman- Joshua L. Ellsworth
Shop Foreman- James Martishius
Construction Buyer- Kathy Brunswick
Stage Foreman- Paul Saunders
Foremen- Roger B. Scruggs Sr.
Jesse Williams & Jeremy A. Gibbs
Toolman- David Thrift
Gang Boss- Brian Hill, Cody Ball, Daniel N. Brown
Marc R. Withey, Johnny Hodgson, Simon Parkin
Joshua Jones, Nathan Holton & Ron Crouthamel
Propmakers- Jack W. Caldwell, David Kippax
Jason Carrick, Joey Huff, Donell 'Trey' Crumpler III
Brian W. Pascoe, Ernie Watson, Chris Wright
Michael Dell, John Philip Andrews, Lester V. Stone
Jeremy Cox, James McFeeters, Ryan Thrift
T.J. Kraemer, Stephen Carlson, Julian Jones
James C. Andrews & Camo Byers
Welder- Joseph Campese
Scenic Charge- Paul W. Oliver
Paint Foreman- James F. Onate
Foremen- Charles Lee Ashworth & C.M. Sloan
Scenic- Stephen Brown, Chris Holcombe, Rebecca Lee
Rebecca Leonard, Heather Rountrey, Danielle Couture
April Freeman, Murray Steele, Diane Howard
Painters- Jules Ho, Tim McKinney Jr., Tasha Thomas
Eric McNeil, Jason C. Parham & Tracy Festa
Utility- Sean P. O'Connell, Kris Strickland, Ryan King
Sherrie Everhart & Kaleigh Alexis Patrick
Set Sculptors- Tony Rosen & Daniel Wils
Plasterer- Eddie Register
Key Greensman- Kevin Dick
First Greens- Kurt A. Trombley
Greensmen- John A. Ganley Jr., Alan Wyzlic
Jacob A. Akers & Ken Burbridge
On-Set Greens- Erich Combs
Transportation Coordinator- Tim J. Walters
Transportation Captain- Scott Siler
Picture Car Coordinator- Dave Elliott
Director Of Transportation- Melissa Wallace Taylor
Drivers- Alan Fela, Ken Wilson, Linda Pickett
Paul Davis, Ashley Gatewood, Nathan Gray
Brian Smallwood, Russell Davsis, Jim Tourville
Philip Tourville, LaDonna Norwood, Reggie Hayes
Patrick Bresk, Chad Brown, Justin Masters
Wayne Jones, Lynn 'L.D.' Dodson, David Hayes
Edwin Bowden, Todd Luckey, Graham P. Deas
Missy Anderson, Randall R. Milazzo, Randy Pickett
Carole French, Casey McCormick, James Tibbets
Cliff Willman, Shane Brewer, Rose Cox & Sanderson Doyle
Studio Teacher- Stephanie Fowler Adams
Ventriloquist Figure Designed By- Bill Nelson
Puppets Created By- Mari Jones
Safety Consultant- Jacob Charney
Fire Department Advisor- Chris Walker
Medical Advisor- Dr. Mark Versnick
Forensics Advisor- Beth P. Williamson
Police Consultants- Kelvin Hargrove & Charlie Benton
Key Craft Service- Keith Sweeney
Craft Service Assistants- Barbara Dole & Meg Lanshaw
Additional Key Craft Service- Michelle Lee Brown
Catering Provided By- Cinema Catering
Chef/Owner- Philippe Gallichet
Head Chef- Troy Caldwell
Sous Chef- DeAaron Barnes
Assistant Chefs- Ryan Richardson & Diego A. Mendoza
Server- Susanna Barnwell
Set Medics- Jessica D. Mazzell & Joshua Bankey
Construction Medics- Thomas C. Dolan
Nate Moore & Colin W. Simpson
Post Production-
First Assistant Editor- Derek Larsen
Assistant Editor- Kali Kasashima
Post Production Coordinator- Ben Simpkins
Post Production Assistants- Keara Burton & Stephen Jangro
Post Effects Guy- Rob Yamamato
Re-Recording Mixers- Paul Urmson & Rich Bologna
Supervising Sound Editor- Rich Bologna
Sound Designer- Rich Bologna
Sound Effects Editor- Lawrence Zipf
Re-Recording Mixers- Skip Lievsay & Lawrence Zipf
Assistant Sound Editor- Rich Chefalas
Recordist- Kyle Miller
Warner Brothers Studio Manager- Carol Mintz
Sound Mixing & Editorial Services Provided By- Warner Brothers, New York
Foley Services Provided By- Footsteps Post Production Sound Inc.
Foley Services Provided By- Igor Nikolic
Foley Artists- Gord Koyama & Sandra Fox
Foley Mixers- Jack Heeren & Kevin Schultz
Foley Recordists- Davi Aquino & Chelsea Body
IMAX Re-Recording Mixer- Paul Massey
Sound Services Provided By- Pacific Standard Sound
Sound Design Consultant- Will Files
Supervising Sound Editor- P.K. Hooker
Supervising Dialogue Editor- Ryan Cole
Dialogue Editor- Polly McKinnon
Re-Recording Mixer- Jeremy B. Davis
Sound Effects Editors- Lee Gilmore
Andrew Twite & Matt Yocum
Audio Producer- Carol Thomas
ADR Mixer- Bobby Johanson, Harbor Pictures
ADR Mixer- Mike Rivera, Harbor Pictures
ADR Mixer- Chris Navarro, Formosa Group
ADR Mixer- Michael Miller, Formosa Group
ADR Mixer- J.J. Suelto, Parabolic Studios
ADR Mixer- Steve Johnston, Outpost Audio
ADR Mixer- Jon Vogl, Apex Audio
ADR Mixer- Dane Butler, Chez Boom
ADR Mixer- Adam Weiss, Mix One
ADR Mixer- Evan Richey, Ovation Sound
ADR Mixer- Jeff Hinton, Screen Gems
ADR Mixer- Curt Bush, White Dog Studios
Loop Group Provided By- The Dann + Bruce Company
Loop Group Coordinators- Dann Fink & Bruce Winant
Score Produced By- John Carpenter
Cody Carpenter & Daniel Davies
Score Mixed By- Daniel Davis & John Spiker
Score Recorded By- John Carpenter
Cody Carpenter & Daniel Davies
Music Editor- Nancy Allen
Music Consultants- Amman Abbasi
Jacob Nathan & Michael Brake
Karaoke Video Consultant- Aaron Rogers
Main Titles Created By- Cutting Edge & Richard A. Wright
End Titles Created By- Jay Johnson
Color Finish Provided By- Company 3- New York
Colorist- Tom Poole
Finishing Editor- John Diesso
Color Assistant- Jake White
Head Of Production- Margaret Lewis
Account Executive- Jim Gardner
Company 3 Executive Producer- Stefan Sonnenfeld
Texture By- Livegrain
Dailies By- Sim Post, Atlanta
Dailies Supervisor- Brian Lonano
Dailies Technician- David Schreiner
Workflow Assistant- Alex Sinesi
Opticals- Crafty Apes, New York
Film Archival- B.B. Optics, New York
Visual Effects Provided By- Cutting Edge
Visual Effects Supervisor- Simon Maddison
Visual Effects Executive Producer- Marcus Bolton
Visual Effects Producers- Andrew Strouthos & Courtenay Cooper
Visual Effects Coordinator- Demi Bird
Visual Effects Assistant- Nicole Hargreaves
Computer Graphics Supervisor- Matt Ebb
Senior Computer Graphics- Aevar Bjarnason
Senior 3-D Artists- Kanin Phemayothin
Peter Kober & Ben Seager
Lighting Artist- Erik Charlebois
Matchmove Artist- Marco Sgubin
Compositing Supervisor- Phillip J. Lange
Compositors- Adrian White, Brad Dunn
Darren Coombes, Mark Kwanten, Jess Hunt
Josh Azzopardi, Nadia Ascione & Will Hackett
Roto/Clean-Up Artist- Sam Littlechild
Titles Compositor- Aaron Brien
Visual Effects Editor- Aaron Brien
Visual Effects Pipeline T.D.- Toby Morgan
Creative Technology Specialist- Simon Alberry
Systems Administrator- Cam Wright
I.T. Support- Amitav Nakarmi & Philip Chhour
For Blumhouse-
Head Of Post Production- Jennifer Scudder Trent
Chief Financial Officer- Josh Small
Head Of Production Finance- Amy Agzarian
Manager Of Production Finance- Cody Heffelfinger
Production Finance Assistant- Ivan Asen
Head Of Marketing- Karen Barragan
Head Of Business Affairs- Brad Buchanan
Head Of Legal Affairs- Caroline Raufi
Associate Counsel, Business & Legal Affairs- Kasia Campbell
Associate Counsel, Business & Legal Affairs- Natasha Stassen
Manager Of Business & Legal Affairs- Mary Carol Bulger
Manager Of Physical Production- Weston Manville
Assistants To Mr. Blum- Billy Bowers
Annabelle Amato & Riley Geis
Assistant To Mr. Samuelson- Jenny Sciarra Skelly
Assistant To Ms. Volturno- Ali McLaughlin
Assistant To Ms. Barragan- Elsa Price
Assistant To Mr. Turek- Jenna Meyer
For Miramax-
Studio Executive- Matthew J. Anderson
Production Coordinator- Catie Goldstein
Executive Vice President, Accounting & Finance- David Cragnotti
Senior Vice President, Finance & Controller- Annie C.J. Chang
Head Of Production Finance- Dawn Darfus
Senior Vice President, Strategy & Business Development- Jeremy Gross
Executive Vice President, Operatiors & Business Affairs- Thom Zadra
Vice President, Business & Legal Affairs- David Mittleman
Legal- Carla Martin
Senior Vice President, Marketing & Publicity- Jean McDowell
Marketing Coordinator- Sung Kim
Assistant To Mr. Block- Eric Frazier
Assistant To Mr. Osher- Shamar Drew
Assistant To Mr. Golov- Maeve Geismar
For Trancas International Films-
Legal Counsel- Wayne Kazan
Head Of Post Production- Tom Fleming
Head Of Finance- Amilicar Jones
Production Accounting Provided By- Liberty Jackson, Moneypenny
Production Incentive Consulting Provided By- Len Pendergast, Global Incentives
Production Insurance Provided By- Arthur J. Gallagher & Co.
Payroll Services Provided By- Entertainment Partners
Extras Payroll Provided By- EMS Payroll
Alexa Camera Equipment & Services Provided By- Illumination Dynamics
Camera Dollies Provided By- EUE/Screen Gems
Camera Dollies Provided By- Bulldog Lighting & Events
Grip Equipment Provided By- Griporama
Special Effects Equipment Provided By- Straight On Til Morning
Travel Services Provided By- Frosch
Filmed On Sound Stages At- EUE/Screen Gems Studios, Wilmington, NC
Script Clearances By- Marshall/Plumb Research Associates, Inc.
Images Supplied By- I-Stock

Footage From "Halloween" (1978)
Courtesy Of Compass International Pictures, Inc.

Footage From "Halloween II" (1981)
Courtesy Of Univeral City Studios Licensing LLC & Lions Gate Films Inc.

"Halloween III: Season Of The Witch" Masks
Copyright 1982 Universal Pictures
Courtesy Of Universal Studios Licensing LLC

Footage From "Minnie And Moskowitz"
Copyright 1971 Universal Studios
Courtesy Of Universal City Studios Licensing LLC

Footage From "The Funhouse"
Copyright 1981 Universal Pictures
Courtesy Of Universal Studio Licensing LLC

Footage From "Night Of The Living Dead"
Copyright 1968
Courtesy Of Image Ten, Inc.

Special Thanks To- Tony Moran, Gemmy
Keep The Pet, Patricia Akkad, Tarek Monla
Moustapha Monla & Erin Freimann
Filmed In- North Carolina, New York
Trancas International/Rough House
Copyright 2021 Night Blade 2 Holdings LLC
All Rights Reserved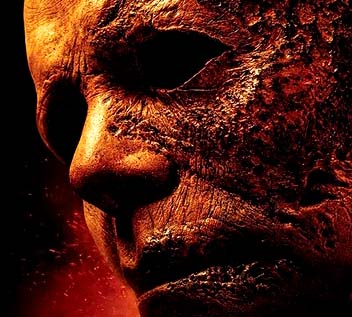 Back To The Lair Of Horror