DID YOU KNOW?



1. David Gordon Green recalled that when they could not find a yearbook photo of original Bob actor John Michael Graham from the 1978 film. Instead, he came across a yearbook photo of Bob Odenkirk (of 'Better Call Saul' fame) that thought he resembled original actor John Michael Graham. The rights issues were resolved and Odenkirk is therefore credited as 'Bob', despite not physically appearing in it.

2. Twelve pumpkins are featured in the opening title sequence with the last one indicating Halloween Kills as the twelfth installment in the Halloween franchise.

3. According to Andi Matichak, it was initially planned that 'Halloween Kills' and 'Halloween Ends' (2022) would be filmed back to back. However, due to an intense schedule and the COVID-19 outbreak, this did not occur.

4. Actual firefighters from Cannon Air Force Base Fire Department appear in the film's opening.

5. As the film was shot digitally, film grain filters were used in the new 1978 flashback scenes.

6. 'Halloween' (2018) was released 40 years after 'Halloween' (1978); 'Halloween Kills' (2021) was released 40 years after 'Halloween II' (1981); And 'Halloween Ends' (2022) is set to be released 40 years after 'Halloween III: Season Of The Witch' (1982).

7. Ross Bacon, who played uncredited mental patient Lance Tivoli in both 'Halloween' (2018) and this film, passed away shortly before the release of the sequel.

8. Universal received a largely negative reaction to releasing the film simultaneously in theaters and on its Peacock streaming service. This was actually producer Jason Blum's idea. Blum decided that, due to the poor box office performance during the COVID-19 pandemic of Blumhouse's film 'Freaky' (2020), the best option was to offer viewers the option of being able to see the film on either Peacock or in theaters.

9. Nick Castle noted that, when recording the sounds of breathing as Myers, he didn't recognize his own appearance in the film.

10. Paul Rudd was offered the opportunity to reprise the role of Tommy Doyle that he played in 'Halloween: The Curse Of Michael Myers' (1995), but he declined due to a scheduling conflict he had with 'Ghostbusters: Afterlife' (2021).

11. Producer Ryan Freimann lobbied for actress Danielle Harris to make a cameo in the film, but was turned down. Harris played Jamie Lloyd, Laurie Strode's daughter and Michael Myers' niece, in Halloween 4 and 5, as well as Annie Brackett in Rob Zombie's remake and sequel.

12. Though the original house that was used for the Myers House in 'Halloween' (1978) in South Pasadena, California is still standing, it was not used for the Myers House in this film. Aside from the fact that the new Halloween films were shot in North Carolina, the original house was moved down the street from its original location, and is now used as an insurance agency. It is owned by someone who does not enjoy the legacy the house maintains and is so bereft of fun (and apparently common sense for having purchased a famous house), that a sign on the property tells people not to go on the porch to take pictures. Fans, understandably, often ignore the sign, especially on Halloween when many people dress up as Michael in order to take pictures with other fans.

13. Following the partial reboot 'Halloween' (2018), this film is part of a sixth separate Halloween timeline:

*Original timeline (John Carpenter acknowledging that the original 1978 movie was always intended to be one complete story): 'Halloween' (1978).
*Actual original timeline: 'Halloween' (1978), 'Halloween II' (1981), 'Halloween 4: The Return Of Michael Myers' (1988), 'Halloween 5: The Revenge Of Michael Myers' (1989) and 'Halloween: The Curse Of Michael Myers' (1995).
*Standalone timeline: 'Halloween III: Season Of The Witch' (1982) (completely separate continuity, as evidence by the scene where a character sees a commercial advertising the first film on television).
*Alternate timeline #1: 'Halloween' (1978), 'Halloween II' (1981), 'Halloween H20: 20 Years Later' (1998) and 'Halloween: Resurrection' (2002) (ignores parts 3 through 6 of the original timeline).
*Alternate timeline #2: 'Halloween' (2007) and 'Halloween II' (2009) (remake and accompanying sequel).
*Alternate timeline #3: 'Halloween' (1978), 'Halloween' (2018), 'Halloween Kills' (2021) and 'Halloween Ends' (2022) (ignores parts 2 through 6 of the original timeline, 7 and 8 of alternate timeline #1, and the Rob Zombie films of alternate timeline #2).

14. The map used by Lonnie to show Cameron and Allyson where Michael is headed is the current map of the west of Bloomington, Illinois.

15. Malek Akkad addressed and explained why it would have been distracting for Paul Rudd to reprise the role of Tommy Doyle (whom he played in 'Halloween: The Curse Of Michael Myers' (1995)). At a press event attended by Screen Rant, Akkad admitted it would have been "wonderful" had Rudd reprised the role in 'Halloween Kills', adding, "It would have warmed my heart and definitely there's some disappointment there". Ultimately, Akkad felt Anthony Michael Hall "fulfills this role in a way that's maybe less jarring for the narrative and maybe won't take people out of it". He added, "Because Paul Rudd is so big for a lot of things like comedy and whatever, he's a fantastic actor, I think it turned out this way for a reason and we're so excited. Anthony Michael Hall does a knockout performance, it's definitely gonna be one of the fans' favorites".

16. When only counting the original series of films and not Rob Zombie's films, this is the first time since the original 'Halloween' (1978) that Tommy Doyle and Lindsey Wallace are in the same movie as Laurie Strode.

17. The film that Big John and Little John are watching is 'Minnie And Moskowitz' (1971), directed by John Cassavetes and starring by Gena Rowlands and Seymour Cassel.

18. Busta Rhymes, who was in 'Halloween: Resurrection' (2002), almost made a cameo in the film but the idea was later scrapped.

19. When Sheriff Brackett confronts Michael at the end, this marks the first (and only) time in the entire series that Charles Cyphers as Brackett has physically seen Myers. He never did in the first two films.

20. At age 72 at the time of filming, Nick Castle is the oldest actor to portray Michael Myers. George P. Wilbur, who currently is 80, is the oldest actor to have played Michael Myers twice, and is still living.

21. Jim Cummings plays a less-than-competent sheriff's deputy, a role he'd written for himself in his two previous films.

22. During the opening bar scene at the bar there is a sign by the tap that reads 'Love Lives Today'. This counters the end where it is declared that 'Evil Dies Tonight'.

23. Director David Gordon Green said that while the movie being released in theaters and on Peacock is his director's cut, the original ending of the movie had more to it. While he wouldn't reveal exactly what happens in the scene, he did say why they took it out: "We ended up lifting it when I became more confident of where we're going to pick up in the next movie, it felt it didn't feel authentic to where we're going to go." He went on to say: "I think it was cool in its own right as watching a one-off movie, but knowing where we're going to exactly where we're going to pick up which, you'll know in a year, it wasn't the right look in the eye that we needed to give the audience".

24. Kyle Richards' (Lindsey Wallace) real-life firstborn daughter was born on October 31,1988, which was ten years after the original 'Halloween' (1978) was made and released.

25. Although they do not share any scenes in 'Halloween Kills', Michael McDonald directed Anthony Michael Hall in 'A Bucket Of Blood' (1995).

26. On the day of release, in response to widespread complaints about the abrupt cliffhanger ending, David Gordon Green announced an extended cut of the movie with the original, longer ending intact.

27. Tommy Doyle's car was a 1990 Ford Mustang LX 5.0.

28. Lonnie's SUV was a 1992 Chevrolet Suburban C-2500 Cheyenne.

29. The truck number for the Haddonfield Fire Department is Engine 31 (a la October 31st).

30. 'Evil Dies Tonight' is said around 30 times in the film.

31. Anthony Michael Hall appeared in 'The Breakfast Club' with Paul Gleason, who also starred in 'Trading Places' with Jamie Lee Curtis. Interestingly, Gleason's first major role was playing a detective in the 1980 horror film, 'He Knows You're Alone'.

32. This film marks the only 'Halloween' film in which Laurie Strode shares no scenes with Michael Myers.

33. Though the filmmakers made a new mask for the 2018 film that looked similar to the original mask, but only weathered to show it had aged, they did recreate the original William Shatner mask for the flashback sequences in this film.

34. Kyle Richards (Lindsey Wallace) broke her nose filming the fight scene with Michael. She didn't tell the crew about it until later, wanting to finish filming the scene herself.

35. Lindsey Wallace is the only person, other than a Strode (in the new canon timeline), to face-off against Michael and survive. She also successfully managed to hide from Michael while being pursued, something not even Laurie did in the original 1978 film.

36. Dr. Loomis, played by Donald Pleasence in Halloween (1978) and four of its sequels, was played by set constructor Tom Jones Jr. With the help of practical make-up appliances, Jones bears an uncanny resemblance to the late Pleasence and was then dubbed over by Colin Mahan, who previously voiced the doctor in an audio recording during 'Halloween' (2018).

37. Michael Myers' mugshot is shown on the news, though the image is blurred out when the camera cuts to Tommy's face when this happens in order to keep the illusion of the audience never seeing what Michael looks like.

38. Michael McDonald is the only person to have been killed on film by both Michael Myers and Mike Myers. In 'Austin Powers: International Man Of Mystery' (1997), McDonald plays the Dr. Evil henchman that slowly gets flattened by a steamroller.

39. This film and 'Halloween Ends' (2022) were both pushed back a year due the COVID-19 pandemic.

40. Cameron (Dylan Arnold) is seen returning from the party in 'Halloween' (2018). However, a deleted scene from that film showed him getting arrested by the police after they saw him harassing Allyson on her way out of the party.

41. Early in the film, Tommy remarks, "If I'm going down, I'm going down swinging", foreshadowing Michael killing him with "old huckleberry" baseball bat.

42. This film has the highest body count of any 'Halloween' movie.

43. Allyson and Lindsey are the only survivors of the mob organized to hunt Michael down.

44. The line Karen says to Allyson in the stairwell of the hospital- "He'll always be with us, even if we can't see him" originally refers to Ray (her husband and Allyson's dad) but later ends up being mirrored by Allyson to reference Michael.

45. When Michael attacks Lindsay, she manages to dislodge his mask, giving her a chance to escape as he puts it back on. Later, Karen rips off his mask and uses it as bait, knowing he'll prioritize putting it back on.


Know any assorted facts that we don't have here? E-mail them to us at: lairofhorror@yahoo.com and you will get credit for them.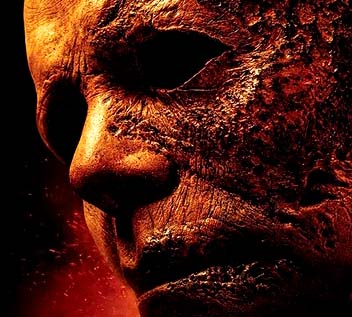 Back To Halloween Kills Page
Back To The Lair Of Horror