Release: Tuesday, September 6, 2005
Company: Dimension Films
Length: 91 Minutes
Tagline: Evil Goes Online
Budget: $5 Million
Direct-To-Video Release
Sound Quality: Dolby Stereo
Film Dates: Unknown
Film Location: Bucharest, Romania
Film Availability: DVD, BLU-RAY, DVD COLLECTION, BLU-RAY COLLECTION, DIGITAL
Soundtrack Availability: None



CORONER'S REPORT





1. ADAM (Stelian Urian)- Burned to death offscreen
2. ALLISON (Anna Tolputt)- Throat slashed in torture, bled out in dream; clawed herself to death in coffin
3. DERRICK (Khary Payton)- Beheaded with surgical cleaver in dream; had asthma attack in coffin
4. MIKE (Henry Cavill)- Hook in back & out chest in dream; died of fright in coffin
5. POLICE OFFICER (Costi Mirica)- Spike through head and out mouth
6. THE HOST (Lance Henriksen)- Sliced to pieces with scythe on chains

*NOTE: Jake also had a vision of all the partiers HUNG DEAD while at Leviathan House, and there were other deaths referenced by The Host, including nuns and inmates that were a part of the house's horrid past.

Film Total: 6
Series Total: 126



SOUNDS


DERRICK: "We were all addicted to Hellworld, man..."
CHELSEA: "Mike, Cenobites don't exist..."
DERRICK: "100 percent mayhem, zero percent guilt..."
DERRICK: "Hellraisers...let's play..."
MIKE: "It's just a game...a crazy f*ckin' Internet game..."
HOST: "Welcome, Hellraisers.."
ALLISON: "Kids, don't try this at home..."
PINHEAD: "Is it just a game, now, Jake?"
MIKE: "I'd love to see your puzzle box..."
HOST: "Welcome to Hellworld, Chelsea..."
HOST: "I love to party..."
PINHEAD: "This is just the beginning..."
PINHEAD: "Oh, what wonders we have to show you..."
HOST: "What makes revenge so sweet? I beat you guys at your own game..."
PINHEAD: "How's that for a wake-up call?"

CAST AND CREW



PINHEAD- DOUG BRADLEY
HOST- LANCE HENRIKSEN
CHELSEA- KATHERYN WINNICK
ALLISON- ANNA TOLPUTT
DERRICK- KHARY PAYTON
MIKE- HENRY CAVILL
JAKE- CHRISTOPHER JACOT
ADAM- STELIAN URIAN
MIKE'S MASKED DANCER- MAGDALENA TUN
DERRICK'S SEXY DANCER- DESIREE MALONGA
RUDE GUY- GAVRIL PATRV
BARTENDER- CARL DUPRE
SISTER URSALA- CATALINA ALEXANDRU
POLICE OFFICER #1- VICTOR MCGUIRE
POLICE OFFICER #2- DAVID ROBINSON
POLICE OFFICER VICTIM- COSTI MIRICA
BANDED CENOBITE- SNOWY HIGHFIELD
MELTED FACE CENOBITE- MIKE J. REGAN
BOUND CENOBITE- GARY J. TUNNICLIFFE

Directed By- Rick Bota
Screenplay By- Carl Dupre
Story By- Joel Soisson
Produced By- Ron Schmidt
Based On Characters Created By- Clive Barker
Casting By- Adrienne Stern & Karen Meisels
U.K. Casting- Carrie Hilton
Costume Designer- Oana Paunescu
Make-Up Effects Created By- Gary J. Tunnicliffe
Visual Effects Supervisor- Jamison Goei
Music By- Lars Anderson
Edited By- Anthony Adler
Production Designer- Cristian Niculescu
Director of Photography- Gabriel Kosuth
Executive Producer- Nick Phillips
Stunts-
Stunt Coordinator- Adi Pavloschi
Stunt Players- Nicu Constantin & Ana Maria Caragea
Executive In Charge Of Production- Jake Myers
Romanian Executive Producer- Vlad Paunescu
Castel Film Production Executive- Cristi Bostanescu
Unit Production Manager- Lucia Pavlovschi
First Assistant Director- Adi Conerth
Second Assistant Director- Simona Dascalu
Production Supervisor- Jason Mundy
Romanian Production Coordinator- Ruxandra Geamanu
Production Accountant- M.K. Gleason
Romanian Production Accountant- Ruxandra Popescu
Assistant Production Accountant- Angie Schmidt
Post Production Accountant- Simone DeCamargo
Script Supervisor- Corina Pan
Third Assistant Directors- Irina Niculin & Alina Petrini
Camera Operator- Gabi Kosuth
Steadicam & "B" Camera Operator- Peter Velciov
Focus Puller- Gigel Dumitrescu
"B" Camera Focus Puller- Cristi Grosu
Film Loaders- Ionut Perianu & Laurentiu Marcu
Video Assistant- Bogdan Holbura
Clapper- Ionut Lupulescu
Still Photographer- Cos Aelenei
Gaffer- Calin Constantin
Best Boy Electric- George Ursescu
Electricians- Catalin Kislinger, Alexandru Nicolae
Marcu Ion & Alex Cosma
Generator Operator- Bebe Surugiu
Key Grip- Cristi Epure
Best Boy Grip- Sandu Polu
Grip- Mihai Postatu
Dolly Grip- Claudiu Zaharia
Casting Director Romania- Claudiu Bolchis
Assistant Casting Director Romania- Floriela Grapini
Casting Director Italy- Lilia Trapanil
Extras Coordinator- Mircea Hategan
Production Sound Mixer- Tibi Borcoman
Boom Operator- Nicu Perianu
Utility/Cableman- Elena Dascalu
Assistant Costume Designer- Adriana Dorobantu
Costume Supervisor- Elena Fratila
Costumers- Alina Coman & Carmen Cristea
Costume Buyer (US)- Mary Helen Bota
Key Hairstylist- Letitia Ghenea
Assistant Hair- Ramona Geamanu
Key Make-Up Artist- Dana Busoiu
Make-Up Artist- Dana Rotianu
Art Director- Serban Porupca
Assistant Art Director- Olivia Postolache
Set Decorators- Dan Toader & Adriana Bucataru
Leadman- Iasar Memedali
On-Set Dresser- Cosmin Cornisor
Swing Gang- Marius Predescu, Eugen Marinescu & Dan Militaru
Buyer- Eugen Cerneanu
First Storyboard Artist- Steve Martinez
Second Storyboard Artist- Adriana Iurascu
Still Photographer- Cos Aelenei
Property Master- Viorel Ghenea
Assistant Property Master- Costin Dragan
Draftsmen- Zoli Szabo & Emil Enache
Location Manager- Razvan Comeaga
Assistant Location Manager- Bogdan Stefanescu
Facility Crew- Stefan Dumitru & Alexandra Margarit
Daily Workers- Florin Anton & Marcel Badea
Creature & Make-Up Effects By- Two Hours In The Dark, Inc.
Designer- Gary J. Tunnicliffe
Sculptors- Michael 'Zoom' Regan, Snowy Highfield
Mitchell Coughlin, Mike Measimer & Jeff Yagher
Mold Makers- Jeff Deist, Rob Freitas
Painters- Steve 'Boogie Time' Lawrence & Richard Mayberry
Administration- Claire Jane Deacon
Christopher Grap & Emma Deacon
Prosthetics Effects Assistants- Ionel Popa & Viorel Militaru
Special Effects Foreman- Daniel Parvulescu
Construction Coordinator- Sorin Popescu
Construction Foremen- Alex Constantinescu & Cristi Simion
Lead Painter- George Stanciu
Set Painters- Mihai Stanciu & Gina Stanciu
On-Set Carpenter- Ciprian Oprea
Second Unit-
Director- Gary J. Tunnicliffe
Directors Of Photography- Alex Sterian & Tony Cartu
Marian Stanciu, Cornel Lazia
Camera Operator- Vali Pal
Grips- Gabi Postasu & Marian Duca
Electricians- Dan Lit, George Stan & Nicu Botarleanu
Transportation Coordinator- Mircea Tudor
Drivers- Marius Grivescu, Florin Ilinca, Nicolae Babancu
Dorin Mihai, Mircea Stanescu, Alexandru Vasile
George Constantin, Virgil Carnu, Marian Manolescu
Vali Anton, Ionel Lopatica, Vasile Olaru, Marin Traian
Nicu Chirea, Dan Berzeanu, Ion Eremia, Dan Radulescu
Eugen Dumitru, Dorin Eftimie, Stefan Ion, Nae Ioana
Gheorghe Ionel, Florin Badea, Andrei Dumitrescu
Marius Badea, Claudiu Zaharia & Alberto Mardale
Assistant To Mr. Bota- Maria Nit
Assistant To Mr. Schmidt- Madalina Simionescu
Office Manager- Nawana Davis
NEO Controller- Simone DeCamargo
Post Production Assistant- Chad Goei
Production Secretary- Clara Gheorghiu
Interpreter- Alina Petrini
Office Secretaries- Cristina Grigoras & Madalina Jimblaru
Set Production Assistants- Bogdan Saulea & Octavian Sotir
Office Production Assistant- Cristi Serban
Hotel Production Assistant- Paul Serbanescu
Catering- Castel Film
Chefs- Ahmed Kamila & Florin Tudorache
Craft Service- Cristian Andrie & Cristina Ivan
Supplier- Paul Velcea
Medical Services- Biomedica
Assistant Editors- Mike Murphy, Lisa Willinger & Alyssa Clark
Post Production Supervisor- Kirk Morri
Visual Effects By- Neo Digital Imaging
Lead Compositor/3-D Artist- Sookie Park
Compositor/3-D Artist- Chad Goei
Additional 3-D Modeling- Steve Lawrence
Paul Runyan & Jennifer Hachigian
Web Graphics Designer- Robin E. Taber
Bloody Chicken Wrangler- Sven Eichensehr
Additional Visual Effects By- Forum Visual Effects
Digital Film Services Provided By- Digital Filmworks
3-D Scanning Services Provided By- Cyber F/X
Re-Recording By- Monkeyland Audio, Glendale, California
Co-Supervising Sound Editors- Trip Brock & Mike Fox
Re-Recording Mixers- Marti D. Humphrey, C.A.S. & Kelly Vandever
Sound Designers- Steven Avila & Kurt Thum
Sound Effects Editor- George Morgenstein
Dialogue Editors- Jackie Oster & Stuart Nelsen
ADR Supervisor- Michael Fox
ADR Editor- Bill Jenkins
ADR Mixers- Mike Fox & George Groves
Assistant Sound Editor- Peter Lago
Foley Walker- Jim Bailey
Foley Mixer- Geordy Sincavage
Foley Editor- Kelly Vandever
Post Sound Coordinator- Elana Saviolis
Voice Casting- L.A. Mad Dogs
Music Supervisor- Melanie Miller
Music Editor- Mikael Sandgren
Music Coordinator- Trey Shelton
For Dimension Films-
Executive In Charge Of Post Production- Linda Borgeson
Post Production Executive- Leslie Rodier
Executive In Charge Of Casting- Katrina Wolfe
Music Coordinator- Rachel Levy
Titles & Opticals By- Title House Digital
Negative Cutting- Mary Nelson-Fraser & Associates
Bank- HSBC Bank
Legal Services Provided By- Goodman's, LLP
Insurance- Ruben Winkler/AON
Payroll- Entertainment Partners
Customs Liaison- Dori Mercea
Stock Footage Supplied By- AM Stock-Cameo Film Library
Combined Dialogue Continuity & Spotting- Titra
Dailies- Abis Studio
Negative Stock- Kodak Cinelabs, Romania
Cameras- Castel Film
Additional Cameras/Dollies- ARRI, Munich, Germany
Lighting Equipment Provided By- Musco Lighting International
The Producers Wish To Thank-
City Hall Of Bucharest, The City & People Of Bucharest, Romania
Special Thanks To- Clive Barker, W.K. Border
Daniela & Charlotte
Color By- Deluxe
Copyright 2004 Miramax Film Corp.
All Rights Reserved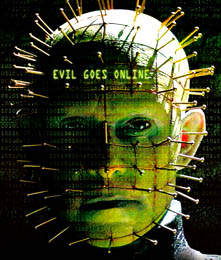 Back To The Lair Of Horror