REFERENCES



FILMS

PSYCHO (1960)
Derrick mentions that the Leviathan House looks like it came from the "Norman Bates school of design".


TELEVISION

PHELOUS & THE MOVIES (2016)
Episode: 'Hellraiser: Hellworld'.
The movie is reviewed during this episode.

ATOP THE FOURTH WALL (2019)
Episode: 'Clive Barker's Hellraiser Summer Special'.
Linkara gives his thoughts on 'Hellworld' during this episode.


VIDEO

TICKET TO HELLWORLD: A BEHIND THE SCENES LOOK (2005)
Clips from 'Hellworld' are shown during this featurette.


Know any references that I don't have here? E-mail them to us at: lairofhorror@yahoo.com and you will get credit for them.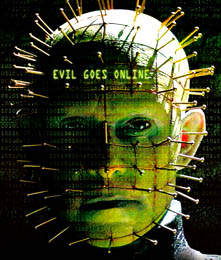 Back To Hellworld Page
Back To The Lair Of Horror