Release: Tuesday, September 23, 2014
Blu-Ray, Box Set & Digital Release
Company: Dimension Films
Length: 118 Minutes
Tagline: Terror Never Rests In Peace
Budget: $5 million
Box Office: $15.1 Million
Opening Weekend: $7.3 million
Sound Quality: Ultra-Stereo
Film Location: Salt Lake City, Utah
Film Availability: BLU-RAY, BOX SET, DIGITAL
Soundtrack Availability: EXPANDED CD, DIGITAL



CORONER'S REPORT





1. MARY (Susan Swift)- Head impaled on spiked wall
2. MOTORIST (Tom Proctor)- Head twisted off, neck broken
3. JAMIE (J.C. Brandy)- Knifed in stomach, later shot by Man In Black
4. DEBRA (Kim Darby)- Hacked up with an ax
5. JOHN (Bradford English)- Knifed in stomach, electrocuted on fuse box
6. BARRY (Leo Geter)- Strangled and stabbed in van, hung in tree
7. TIM (Keith Bogart)- Throat slit
8. BETH (Mariah O'Brien)- Stabbed to death with knife
9. DR. WYNN (Mitchell Ryan)- Dies after passing on Curse of Thorn to Dr. Loomis

*NOTE: This is the Coroner's Report for Producer's Cut of the film. For details on the Theatrical Version, be sure to check out that page as well.

Film Total: 9
Series Total: 176



MICHAEL'S BATTLE SCARS





1. Clobbered in back with poker
2. Knocked down flight of stairs
3. Poker to right wrist
4. Power neutralized by runes

*NOTE: These are Michael's Battle Scars from the Producer's Cut of the film. For details on the Theatrical Version, be sure to check out that page as well.

Film Total: 4
Series Total: 109



SOUNDS


DR. LOOMIS' Opening Narration
DR. WYNN: "If That Maniac Is Out There, I Plan To Bring Him Back...Alive..."
DR. LOOMIS: "Michael Is Alive...I Can Feel His Evil Heart Beating..."
DR. LOOMIS: "I Can't Go Through This Again, Not Alone..."
JOHN: "She's Not My Daughter Anymore..."
SHERIFF: "You People Got No Business In My Town..."
DR. LOOMIS: "Michael Myers...Is My Business..."
SHERIFF: "Been Quiet Here For 6 Years And That's The Way It's Gonna Stay..."
TOMMY: "They Want Us To Believe He's Dead, But I Know...I've Always Known..."
JOHN: "Happy Halloween, Little Girl..."
JAMIE: "Michael, Please Don't Hurt Me...Oh God, Please Forgive Me!"
MAN IN BLACK: "Your Work Is Done Now, Jamie..."
TOMMY: "In His Mind, Anyone Living In His House Is His Family..."
DR. LOOMIS: "You Let It Get To Her!!! How Could You?!"
TOMMY: "I Think Michael Is Under The Influence Of An Evil Rune..."
TOMMY: "If Thorn Could Somehow Be Trapped...The Evil Could Be Destroyed..."
DR. WYNN: "Michael...Your Final Sacrifice..."
KARA: "You Know Who's Baby It Is, Don't You?"
DR. WYNN: "You Should Join Us...You Have Talent..."
DR. WYNN: "Welcome To Your Fate...The Time Has Come For You To Join Us..."
DR. WYNN: "We Must Restore Balance To The Natural Order Of Things..."
DR. WYNN: "I Protect Michael...And...Now It's Time For Another..."
DR. WYNN Recites The Thorn Ritual
DR. WYNN: "Michael, What Have They Done To You?"
DR. LOOMIS: "Michael, It's All Over Now..."
DR. WYNN: "It's Your Game Now, Dr. Loomis..."

CAST AND CREW



DR. LOOMIS- DONALD PLEASENCE
MICHAEL MYERS- GEORGE P. WILBUR
SECOND UNIT SHAPE- BRAD HARDIN
ADDITIONAL SHAPE- A. MICHAEL LERNER
TOMMY DOYLE- PAUL RUDD
KARA STRODE- MARIANNE HAGAN
DR. WYNN- MITCHELL RYAN
DEBRA STRODE- KIM DARBY
JOHN STRODE- BRADFORD ENGLISH
TIM STRODE- KEITH BOGART
BETH- MARIAH O'BRIEN
BARRY SIMMS- LEO GETER
JAMIE LLOYD- J.C. BRANDY
DANNY STRODE- DEVIN GARDNER
MARY- SUSAN SWIFT
MRS. BLANKENSHIP- JANICE KNICKREHN
DR. BONHAM- ALAN ECHEVERRIA
DAWN- HILDUR RURIKS
PARAMEDIC- SHERI HICKS
MOTORIST- TOM PROCTER
ATTENDANT- BRYAN MORRIS
NURSE- LEE JU CHEW
BALLERINA- RAQUELLE ANDERSON
COLLEGE CO-ED- KRISTINE SUMMERS
LUNATIC- ELYSE DONALSON
ADDITIONAL SHAPE- A. MICHAEL LERNER
SMITH'S GROVE DOCTOR- FRED LERNER
YOUNG JAMIE- DANIELLE HARRIS
DEPUTY- JAMES WOODSON
DRUNK COLLEGE STUDENT- JIMMY CHUNGA

Directed By- Joe Chappelle
Written By- Daniel Farrands
Based On Characters Created By-
John Carpenter & Debra Hill
Produced By- Paul Freeman
Executive Producer- Moustapha Akkad
Casting By- Ross Brown and Mary West
Production Designed By- Bryan Ryman
Associate Producer- Malek Akkad
Music By- Alan Howarth
Halloween Theme By- John Carpenter
Edited By- Randolph K. Bricker
Director Of Photography- Billy Dickson
Stunt Coordinator- Fred Lerner
Stunt Players- Mary Albee, Kathy Jarvis,
Fenton Quinn, J.P. Romano,
Debby Lynn Ross, Lynn Salvatore
Unit Production Manager- S. Michael Formica
First Assistant Director- Christopher Gerrity
Second Assistant Director- Troy Rohovit
Special Make-Up Effects- John Carl Buechler
Magical Media Industries, Inc.
Art Director- T.K. Kirkpatrick
Lead Man- George Karnoff
Art Department Coordinator- Carla Formica
Swing- Scott Arneman, Joe Henderson,
Konner Jenson, Richard Kyker Jr.,
Scott Chase Rully, Patrick Vandervoort
Lead Scenic- J. Chad Davis
Scenic- David Vala
Artist- Emily M. Cannon
Property Master- Dick Kyker
Assistant Property Master- Mark Brown
Camera Operator- Stephen Collins
First Assistant Camera- Duane (D.C.) Manwiller
Second Assistant Camera- P. James Keitel
"B" Camera, First Assistant Camera- Jason R. Zimmerman
Key Grip- Alvin L. Simmons
Best Boy Grip- Jason Fife
Dolly Grip- J.J. Johnson
Grips- Wally Byrnes, David Peck,
David G. Sapp, J. Todd Taylor
Gaffer- John K. Farr
Best Boy- John Raymer
Electricians- Sean Anastasion, Wayne Baxter,
Dave A. Parks, Samuel Smith
Production Coordinator- Judi Tallen Kriss
Assistant Production Coordinator- Erin Empey-Baxter
Office Production Assistants- Noreen Lugar-Kyker, Joey C. Watts
Production Controller- Ira J. Friedlander
First Assistant Accountant- Anna Downing
Assistant Accountant- Donna M. Beau
Post Production Accountant- Doug Benson
Assistant Editor- Michelle Hart
Location Manager- Arlene Sibley
Location Assistant- Karen Alvarez
First Assistant Director, 2nd Unit- Bob Bender
Sound Mixer- Mark Hopkins McNabb, C.A.S.
Boom Operator- Paul E. Miller
Re-Recording Mixers- Richard Rogers, Ed Golva, C.A.S.
Sound Facilities- Ryder Sound Services
Sound Editing- Echo Film Services, Inc.
Supervising Sound Editors- John K. Adams, Richard S. Steele
And G. Michael Graham
Additional Sound Effects- Stephen Earnhart
Foley Mixer- Ronald Bedrosian
Recordist- Steve Hollenbeck
Stereo Consultants- Daniel W. Victor Jr., Brian Slack
ADR Voice Casting- Barbara Harris
Special Make-Up Effects By- Magical Media Industries, Inc.
Designer/Supervisor- John Carl Buechler
Controller- Lynn Buechler
Production Manager- John Foster
Sculptors- Christopher Robbins, Nick Marra
Lab Technicians- David Barrett, Brad Hardin, Melanie Tooker
Costume Designer- Ann Gray Lambert
Costume Supervisor- Jim H. O'Daniel
Set Costumers- Cindy Tiare Lambert, Marsha H. Barton
Key Hair & Make-Up- Linda Samodral
Hairdressers- Melanie Tooker, Larry Pennington
Assistant Make-Up- Ryan Marie McCormick, Laurie Vukich
Special Effects Coordinator- Larry Fioritto
Special Effects Crew- Robert Phillips, Stephen Delollis
Special Effects Equipment- Special Effects Services
Set Construction Coordinator- Kimo Jones
Set Construction Labor- Julie Krueger, Brent Astrope,
Randy Cook, Jason Jones, Jiri Vala Jr.
Script Supervisor- Mary Jo Manwill-Conder
Still Photographer- Kent Miles
Publicity- Dale C. Olson & Associates
Casting Associate- Tom Grode
Extras Casting- Chris Hanson, Duane Stephens
Key Set Production Assistants- Mari Evenson Raymer, Scott Wolf
Set Production Assistant- Robert Andrew Reeves
Production Assistants- Christian Hill, Gavin Niebuhr
Transportation Coordinator- Tam Halling
Transportation Captain- Kim Paulsen
Drivers- Al Crane, Duke Doleto, Scott H. Doleto, Marty Haydon,
Mark Humphries, Rob M. Johnsonm Clayton Maw, Cynthia Maw,
David McDonald, James O'Keefe, Cheryl Tower, Gene Ward
Camera Cars- Ray Tostado
Caterer- Michelson's, Mike Latela, Richard E. Shane
Craft Service- Gary Dean Baker
Set Medics- Joe McRae, David Houtz
Stand-Ins- Brenda Sue Cowley, Christopher Demiris
And Sharon Phelps
Executives In Charge Of Production- Jeff Kurz, Richard Potter
And Andrew Roma
Video Playback Operator- Harry Lessing
Film Runner- Amy Jo Weinstein
Set Teacher- Debra Wosnik
Travel Arrangements- Holiday Express Travel
Completion Bond Services- Film Finances
Additional Photography-
Production Manager- David Witz
Director Of Photography- Tom Calloway
Second Assistant Director- Les Banda
Production Designers- Dorian Vernacchio, Deborah Raymond
Set Decorator- Nancy Fallace
Property Master- Michael Lindsay
Gaffer- Jim Spencer
Key Grip- George Palmer
Script Supervisor- Harri James
Location Manager- Paul Brinkman
Hairstylist- Beth Kaminsky
Boom Operator- Chet Leonard
Make-Up Special Effects- Gary Tunicliffe, Image Animation
Mechanical Effects- Frank Ceglia
Costume Designer- Mary Jane Forte
Production Coordinator- Liz Brown
Assistant Production Coordinator- Charley Brooks
Production Accountant- Kelly A. Snyder
Transportation Coordinator- P. Gerald Knight
Transportation Captain- Geno Hart
Craft Service- Mary Meuer
Extras Casting- Tom Thacker
Orchestrations By- Alan Howarth
Music Recorded At- Montecito Post & Ivy Sound
Negative Cutter- Vivian Hengsteler
Color Timer- Michael Mertens
Titles & Opticals- Pacific Title
Special Thanks- Dan Kaplan & Don Post
Lenses and Panaflex Cameras By- Panavision
Color By- Consolidated Film Industries
Recorded In- Ultra-Stereo
A Nightfall Production
A Dimension Films Release
Copyright 1995 Halloween VI Productions, Inc.
All Rights Reserved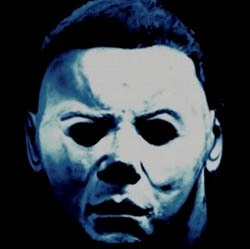 Back To The Lair Of Horror