SOUND ARCHIVE




Laurie: "Hello, Michael..."

Laurie: "I Knew You'd Come For Me Sooner Or Later..."

Laurie: "Are You Afraid To Die, Michael???"

Laurie: "I'll See You In Hell!!!"

Sara: "You Sure They're Not Putting Us In Some House With Cameras In The Shower?"

Aron: "Don't Do It! That's The House Where It All Started..."

Freddie: "You Six Will Enter The Birthplace Of Evil In Its Purest Form..."

Bill: "Michael Myers Is Not Just A Guy Behind A Mask...He's A Legend"

Donna: "Michael Myers Embodies The Politics Of Violence Embedded In Pop Mythology"

Rudy: "Never Underestimate The Effect Of A Poor Diet"

Sara's scream

Freddie: "Let The Dangertainment Begin!!!"

Jen: "You Are This Close To Getting Voted Off The Island"

Jim: "You Know, Donna, You Got Great Legs...What Time Do They Open?"

Bill: "One Flash And You Can Light Up A Thousand Computer Screens"

Freddie: "I Ain't Paying You To Be Michael Myers...I'M Playing Michael Myers!!!"

Freddie: "I Left The Back Door Unlocked For Your Ass..."

Sara: "Michael's Here!!! I Saw Him In The House!!!"

Freddie: "Trick Or Treat..."

Freddie: "Hey Mikey, Happy %@*!& Halloween!!!"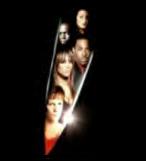 Back To Resurrection Page
Back To The Lair Of Horror