DID YOU KNOW?



1. When Doug Bradley, the original Pinhead, was asked in an interview what his advice would be to Paul T. Taylor, who took on the role of Pinhead in this film, he sarcastically answered: "According to Gary (J. Tunnicliffe, the director of the movie), Mr. Taylor has the screen presence of Peter Cushing and Ralph Fiennes, so he won't need any help from me, will he?"

2. In response to that comment, Tunnicliffe said that 'as usual' this was someone misquoting. He stated that what he had in fact said was he thought there was a 'hint of Cushing and Fiennes' to Taylor in his screen test, clarifying that he meant physically more than anything else. During filming though, Tunnicliffe and Taylor had fun using the late Peter Cushing's portrayal as Grand Moff Tarkin in 'Star Wars Episode IV: A New Hope' (1977) as a guideline of sorts; any time that Tunnicliffe wanted a more subtle or nuanced line reading, he would simply whisper, 'You're far too trusting' (a line uttered by Tarkin to Princess Leia) to Taylor, who would then mimic said line.

3. At director Gary J. Tunnicliffe's request, producers contacted Damon (Sean Carter) Carney's wife and secretly obtained stories and intense moments from his past that were then (without his prior knowledge) used during the scene when he is 'audited'. After filming of the scene was done, Carney yelled out "What the f**k just happened!...I was genuinely FREAKED out!"

4. Paul T. Taylor is the third Pinhead, following Stephan Smith Collins (Hellraiser: Revelations) and the iconic Doug Bradley, who portrayed the character first eight installments.

5. John Gulager, who plays the gluttonous 'Assessor' in the film, also directed the film 'Feast' (2005). Director Gary J. Tunnicliffe met Gulager when he worked for the director on the project Greenlight winner's directorial debut as creature effects designer. Tunnicliffe stated that he wrote the role specifically for John and could never have imagined anyone else playing him.

6. An avid Doctor Strange fan, director Gary J. Tunnicliffe sculpted the symbol of the famed 'Eye of Agamotto' into the new version of Pinhead's (Paul T. Taylor) leather robes as well as adding a diamond shape skinned section in honor of 'Leviathan' (the God that the Cenobites serve) in the torso. In addition, he added a long, threadbare robe and real metal chain mail 'butchers apron' to the ensemble. Coincidentally, Scott Derrickson, who actually directed the film adaptation of 'Doctor Strange' (2016), began his career as a feature film director directing 'Hellraiser: Inferno' in 2000.

7. The makeup for The Auditor was originally going to be part of the look for a re-imagined Pinhead. The cosmetics were shown to the studio when Hellraiser was originally optioning a full reboot. However, when a direct sequel was decided instead, the makeup team kept the designs, and recycled them into the Auditor character.

8. During the scene where the three detectives are getting coffee from a food truck, the three other patrons are the actual HOD and make-up effects team- Adrienne Lynn, Mike Measimer and Mike Jay Regan (who also reprises his role as the Chatterer cenobite in the film).

9. Though given third billing in the opening credits, actress Heather Langenkamp's role is merely a cameo, as she is only on-screen in one scene, for a total of 45 seconds, and is hardly recognizable in aging makeup.

10. In the first scene with the brother detectives driving to a crime scene, David instructs Sean to turn on 'Taylor', a nod to actor and new Pinhead Paul T. Taylor.

11. 55 Ludovico Street, the address of 'the house' is a nod to the original 'Cotton House' used in the first film (55 Ludovico Place, Cricklewood, London), which itself was a reference to 'A Clockwork Orange' (1971), encompassing both the Ludovico Technique as well as Alex's prison number.


Know any assorted facts that we don't have here? E-mail them to us at: lairofhorror@yahoo.com and you will get credit for them.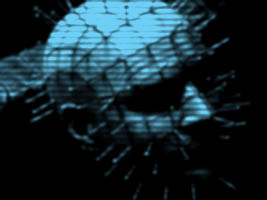 Back To Judgment Page
Back To The Lair Of Horror