CORONER'S REPORT




1. Rancher (uncredited)- Chainsaw in leg by Jed, sledgehammer to head by Grandpa
2. Betty (Lorina Kamburova)- Falls into trap in barn, crushed by falling engine
3. Orderly #1 (Velizar Binev)- and
4. Orderly #2 (Vladimir Vladimirov)- Bludgeoned to death by Bud's bare hands
5. Female Inmate (uncredited)- Strangled to death by Clarice
6. Dr. Lang (Christopher Adamson)- Head smashed against and through window by Bud
7. Brunette Nurse (Simona Williams)- Stabbed to death through the mouth by escaped male inmate
8. Male Inmate (uncredited)- Stomped to death by Jackson
9. Orderly #3 (Vladimir Mihailov)- Thrown out window in wheelchair
10. Patron #1 (uncredited)- Knifed in neck by Clarice
11. Patron #2 (uncredited)- Shot in head by Clarice
12. Cook (uncredited)- Shot in head by Clarice
13. Tammy (Nicole Andrews)- Knifed in armpit, head blown apart by shotgun blast by Isaac
14. Hillbilly (uncredited)- Found strangled to death with a cord in his trailer
15. Isaac (James Bloor)- Bludgeoned in head with switch, head stomped into tree stump by Bud
16. Clarice (Jessica Madsen)- Shot in leg, pistol whipped, shot in head by Hartman
17. Bud (Sam Coleman)- Shot in side by BBQ patron, later shot in head by Highway Deputy
18. Highway Deputy (Velizar Peev)- Beat to death, head slammed in car door repeatedly by Jackson
19. Deputy Sorells (Finn Jones)- Knifed in back by Drayton, fed to family's hogs
20. Hal Hartman (Stephen Dorff)- Sledgehammer to leg, chainsaw through stomach repeatedly by Jed, dismembered and fed to family's hogs
21. Lizzy (Vanessa Grasse)- Steps in bear trap, beheaded with chainsaw by Jed and fed to family's hogs

*NOTE: During the asylum break out scene, the Demure Nurse (Venelina Ghyaurova) had her head bashed off of a desk by Verna and an Orderly (uncredited) was beaten unconscious by several inmates, but it is unconfirmed if either survived or perished.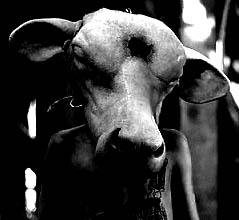 To Complete Coroner's Report
Back To Leatherface Page
Back To The Lair Of Horror