THE RATING



THE LAIR EXPERTS

Matt: Clive Barker is back to his usual excellence, with the sequel to his classic 'Hellraiser'. Although Barker only wrote and produced this film, and it was directed by someone else (Tony Randel), Barker's fingerprints are clearly all over this, making it a very worthy sequel to continue the storylines he began in the original. A lot of the original cast is back, including Kirsty, Julia and even a cameo from Uncle Frank. This adds to the overall strength of the film, and gives it some much needed continuity. Kirsty, now locked up in an asylum with a crazy doctor, is tricked into returning to hell to save her father (who was really Uncle Frank). Meanwhile, the obsessed Dr. Channard is willing to do anything it takes to discover the secrets of hell, including resurrect Julia, who returns in hellish fashion and puts on an even better performance than in the original. Channard hopes to achieve success through the use of patient Tiffany, whose expertise at solving puzzles proves very useful. And let's not forget about the Cenobites, who return with an unholy vim and vigor, eager to take more souls to hell and please their Lord Leviathan. Doug Bradley is again great as Pinhead, and it was after this film that the character really became the franchise centerpiece. The effects were on-par with the first one, and the story was as believable as it could be. I really liked the exploration of the depths of hell. That was something that they really didn't touch on in the first film, and helped make this one a more well-rounded film overall. 9.5 out of 10.


THE FANS

Want to add your review??? See below.


NOTE: These ratings are of the Lair experts. If you don't agree with us, then you don't know what you're talking about. If you would like your own review added to our fan section, e-mail us at: lairofhorror@yahoo.com and just maybe we will post it here.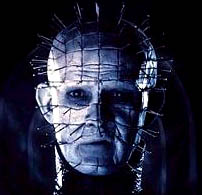 Back To Hellbound Page
Back To The Lair Of Horror