WHERE ARE THEY NOW?



Dominique Othenin-Girard


Dominique Othenin-Girard, who took the helm as director for 'Halloween 5', is still directing today. His success has primarily been in foreign-language films all across Europe, but his slate does include a few more U.S. theatrical releases. He led the 1990 movie 'Night Angel', and followed that up with the successful sequel to the Omen, 'Omen IV: The Awakening' in 1991. In 1995, he did another sequel, 'Red Shoe Diaries 5: Weekend Pass', and then helmed the 1996 TV movie 'Adrenalin'. Girard's most recent project is the 2005 TV movie 'The Tube'.




Donald L. Shanks

Veteran actor Donald L. Shanks, who played Michael Myers in 'Halloween 5', went on to moderate success doing primarily movie sequels. His other movie credits include 'Revenge of the Ninja' in 1983, 'Silent Night, Deadly Night' in 1984, and 'The Crow: Salvation' in 2000. His latest horror entries were 2005's 'Urban Legends: Bloody Mary', and 2006's 'I Will Always Know What You Did Last Summer'.




Ellie Cornell
Ellie Cornell went on to moderate success since 'Halloween 4', appearing in both TV and films. She appeared on numerous TV movies, and reprised her role as Rachel Carruthers in 'Halloween 5' in 1989. After that, she landed a role in the 1992 film 'A League Of Their Own', but had to back out when she learned she was pregnant. Following a long break from acting to raise her two children, Ellie returned in the 1998 flick 'Free Enterprise'. Most recently, Ellie starred in the 2003 video game adaptation 'House of the Dead', and its sequel, 'House of the Dead 2: Dead Aim' (2006).




Danielle Harris


www.danielle-harris.org
Danielle Harris, who played Jamie in both Halloween 4 and 5, developed into a multi-talented actress throughout the 1990s. Harris excelled in both television and films, appearing on numerous shows. Her most notable movie credits include 1990's 'Marked For Death', 1993's 'Free Willy', and 1998's 'Urban Legend'. On the small screen, she guest starred on TV classics like 'Roseanne', 'ER', and 'Charmed'. In 1995, Danielle offered to again reprise her role as Jamie in 'Halloween: The Curse of Michael Myers', but due to the producers' indecision on her and her salary, she opted not to return. Most recently, Danielle returned to the franchise that defined her, taking on the role of Annie in Rob Zombie's 2007 revisioning of 'Halloween'.




Beau Starr
Beau Starr, who played the determined Sheriff Meeker in Halloween 4 and 5, parlayed his experience into a moderately successful career in Hollywood. After chasing down Michael Myers, Starr went on to co-star in big budget films like 'Born on the Fourth of July' in 1989, 'Goodfellas' in 1990, and 'Speed' in 1997. Along the way, he continued small work in television, appearing on 'NYPD Blue' and 'Providence', among others. In his most recent work, Starr worked alongside Russell Crowe in his boxing movie, 'Cinderella Man' in 2005, and appeared on USA's TV thriller 'The 4400' in 2006.




Wendy Kaplan
Wendy Kaplan, who played Tina in 'Halloween 5', went on to be a successful actress on the soap opera 'The Guiding Light'. She had a recurring role as 'Eleni' during the show's run in 1994 and 1995. Prior to that, Wendy appeared on the TV show 'My Two Dads' in 1987, and 'Alien Nation' after she completed 'Halloween 5' in 1989. Her most recent project, released in 2006, was titled 'Blood Deep'.




Tamara Glynn

www.tamaraglynn.com
Tamara Glynn, who played the sultury Samantha in 'Halloween 5', got out of acting in 1990. Glynn, a former Dallas Cowboys cheerleader, had bit work up to that point, working several TV shows. Her credits include 'Rags to Riches', 'Growing Pains', and 'Freddy's Nightmares', among others.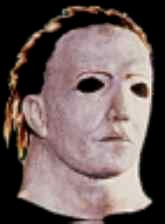 Back To Halloween 5 Page
Back To The Lair Of Horror