ALTERNATE ENDINGS



ALTERNATE ENDING #1- TUNNEL GRAB (0:48)




1. After Freddie shoves the camera, A CSI agent arrives on the scene. She pulls out her flashlight and looks into the tunnel, when all of a sudden, Michael jumps out and grabs her!


ALTERNATE ENDING #2- AX SMASH (1:23)




2. As the paramedic wheels out Michael's body, Freddie makes jokes standing above the opened bodybag, and suddenly, Michael's eyes open and he grabs Freddie and starts to choke him! Sara then raises a fire ax and slams it into Michael's face.


ALTERNATE ENDING #3- DECKARD SAVES THE DAY (1:04)




3. Deckard shows up and rescues Sara from the fiery garage. She has no idea who he is, but when she realizes it, they hug.


ALTERNATE ENDING #4- FIVE MICHAELS

4. An ending considered but never filmed saw the firemen enter the garage and look for Michael's body, when one of the firemen looks across the street and suddenly, five different Michael's emerge. Could one of them be real? Or could the real one be lost in that sea of white faces?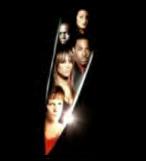 Back To Resurrection Page
Back To The Lair Of Horror